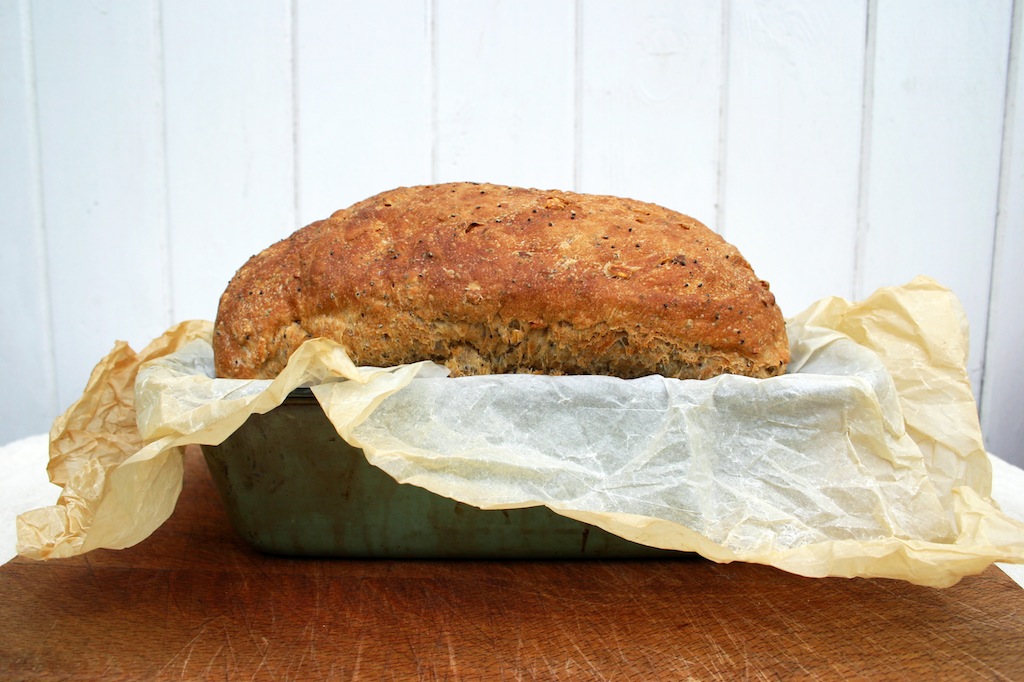 … still baking my well protected flabby belly on an island in the Med and i kind of want to have a moan about the state of today's youth, technology,  social media and the death of conversation but I feel I may sound like an old codger so i'll save it for when I'm back in the UK… so here's a quick bread post with a loaf that kind of has everything in it…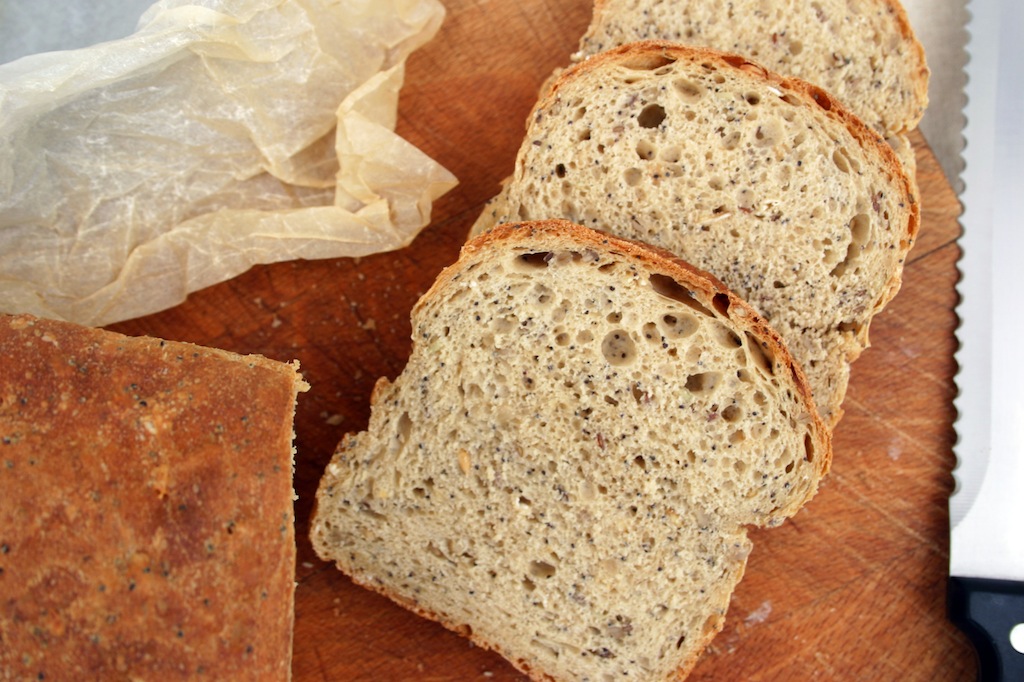 linseed, poppyseed, honey and multi-grain loaf
I realise i've baking and posting about a lot of bread recently but I find the process of baking bread so therapeutic and i'm still keen to get those of you who haven't tried either the low-knead method or bread baking of any kind to give it a go… I promise you, you'll be astounded at the results… plus, if you're big bread eaters like we are here in belleau cottage, there's simply nothing better than eating your own home-baked bread and baking a couple of these beauties on a friday will see you right through the weekend with utter joy!
200g strong white bread flour
100g spelt flour
100g wholegrain flour
1 teaspoon poppy seeds
1 teaspoon linseed
1 teaspoon sesame seeds
1 tablespoon rolled oats
1 teaspoon salt (not table)
1 tablespoon runny honey
1/2 teaspoon fennel seeds
1 teaspoon fast active dried yeast
300ml luke warm water
some oil of your choice
scrunch some parchment then line your loaf tin… saves heaps of time!
place all the ingredients except for the oil, in a large bowl and bring together with a rubber spatula, once combined set aside, cover with a tea towel and leave for 10 mins for the yeast to do its magic.
spill a little oil (I tend to use EVOO but it's entirely up to your tastes) on your work surface, spread it around with the flat of your hand and then using your oiled hand grab the dough from the bowl and place it on the oil. Then swiftly drizzle a little oil into the bowl and wipe around using your oiled hand.
now turn to the dough and give it 8 'kneads'. This should take no longer than 30 seconds and you should already be able to feel the softness and air in the dough. Return the dough to the bowl, cover with a towel and set aside for 10 mins.
repeat 2 more times then cover the bowl with cling film and let the dough rise for at least an hour or until doubled in size
once doubled oil your work surface with your hand again and punch the dough into an oval on it, then starting at one end, roll the dough tightly into a sausage, tuck in the ends and plop into your prepped loaf tin. Pre heat your oven to 200C and set aside for 30 mins till risen.
Place the tin in the oven and bake for 10 mins then turn down the heat to 180c and bake for a further 20 mins. Remove loaf from tin then bake on the naked oven shelf for five more mins.
Set aside till completely cooled
eat and of course, enjoy!