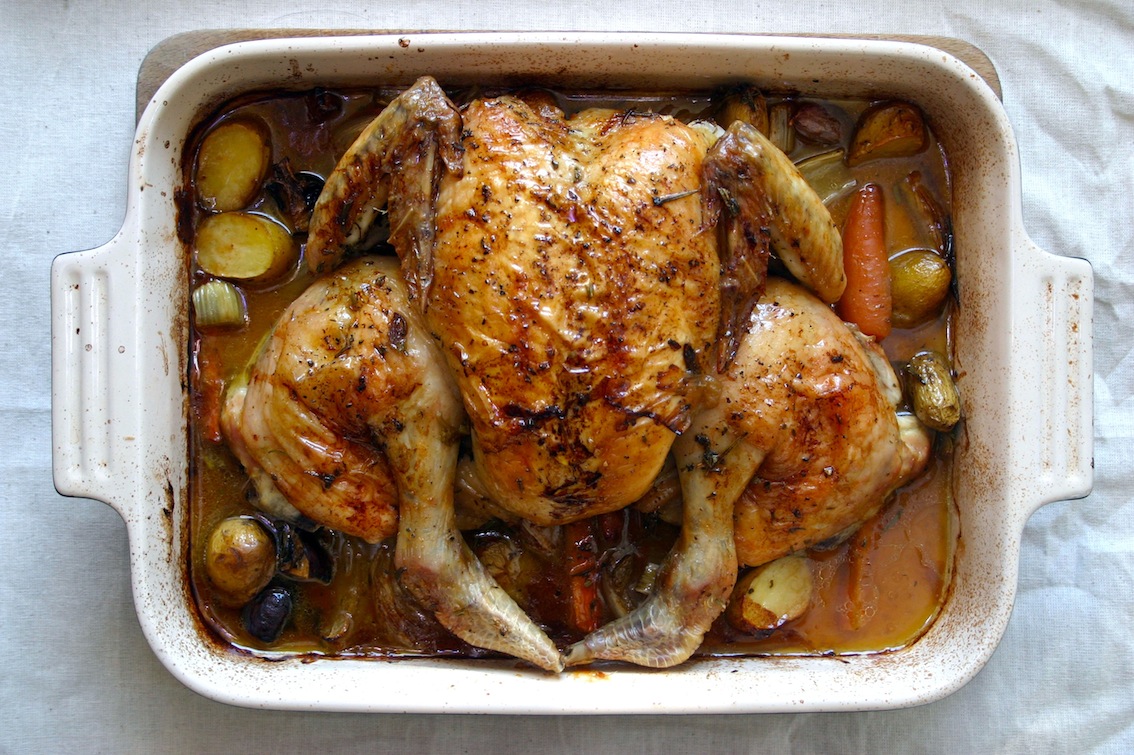 … as you know, I love my slow-cooked food but I realise that this long, relaxed way of cooking doesn't always work for all of us all the time… sometimes we need a quick solution for a mid-week, glamorous meal that's just as fabulous and I think i've cracked it with this butterfly chicken… The butterflying technique is a simple as picking up a pair of scissors and cutting out the backbone, it also means the cooking time is considerably reduced… but if you're squeamish you can ask your butcher to do it for you… and then with just a few added vegetables and bit of butter you'll have an all-in-one meal that is fast, super-tasty and will impress those who may need impressing, beyond any doubt…
… plus… and I hope i'm not coming across too '1950's Housewife' on you here… but you can also turn this glorious meal into at least one, if not two other meals with an extremely tasty soup made from the roasted carcass and with any left-over meat I always like to throw together a little chicken pilaf… so all in all it's fast, tasty and thrifty too… a win-win-win!
glamorous mid-week chicken
now listen here you lot… I won't lie, butterflying a chicken is gruesome… for about 7 seconds… and then it's over and you have something very pretty to serve up… and it can be done in three easy steps:
1. turn the chicken over on to its breast then take your index finger and third finger and run them back and forth along the backbone, just so you know where it is and get an understanding of its shape.
2. take a pair of kitchen shears or scissors and snip along either side of the backbone from bottom to neck – remove this length of gristle and flesh and save it for stock or soup
3. turn the chicken back over, push down on the breast to flatten out the chicken and pull the wings over the top of the breast as shown in the finished photo above.
see… gruesome but so simple…
1 large free range chicken
150g butter -softened
a sprig of fresh rosemary
2 sprigs of fresh thyme
1 sprig of fresh lemon thyme
1/2 teaspoon dried oregano
1 carrot cut into batons
1 onion – cut into small wedges
2 sticks of celery – cut into chunks
6 chestnut mushrooms – quartered
4 cloves of garlic – un-peeled
a handful of new potatoes
pre-heat your oven to 190C
throw all the prepped veg into the bottom of a roasting tin and lay the butterflied chicken on top
de-stalk and chop up all your herbs nice and small and mix them into the butter, then spread this all over the top of the chicken, season and roast in a pre-heated oven for 1hour at 190C… check on it after half an hour and add a splash of water from the kettle…
once it's nice and golden, take it out of the oven and leave it, covered in a tea towel whilst you microwave some frozen peas, as a little added greenery will lift the whole meal to utter perfection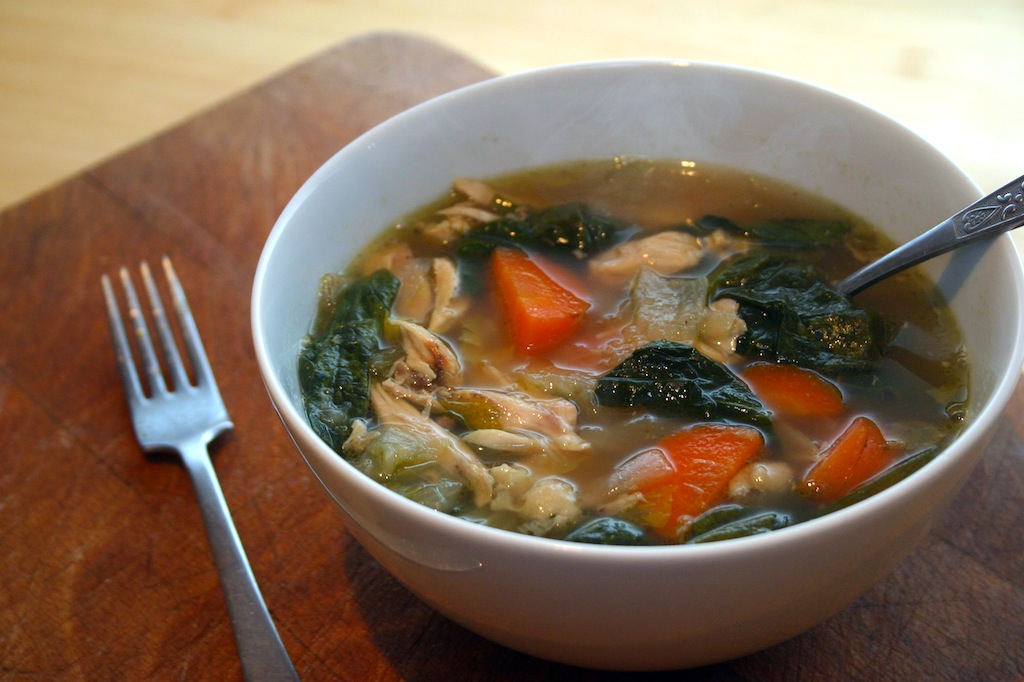 roast chicken and spinach soup
once the chicken has been devoured you'll usually find there's quite a bit of flesh left in the crevasses of the carcass… I always pop the whole lot in the fridge and wait till the next day to prep the soup. Then I break the whole lot down into smaller bits, cover with cold water, a couple of teaspoons of powdered vegetable stock and freshen it up with one whole carrot cut into chunks, a stick of celery cut the same way and a wedge or two of onion… I also throw in about 5 or 6 whole peppercorns for some added power… it was gently simmered for about 2 hours, cooled and then I picked the flesh from the bones, removing as much of the carcass as I could get my sticky hands on… I reheated it before serving adding the spinach which came from a half used bag, just before serving…
eat and of course, enjoy!