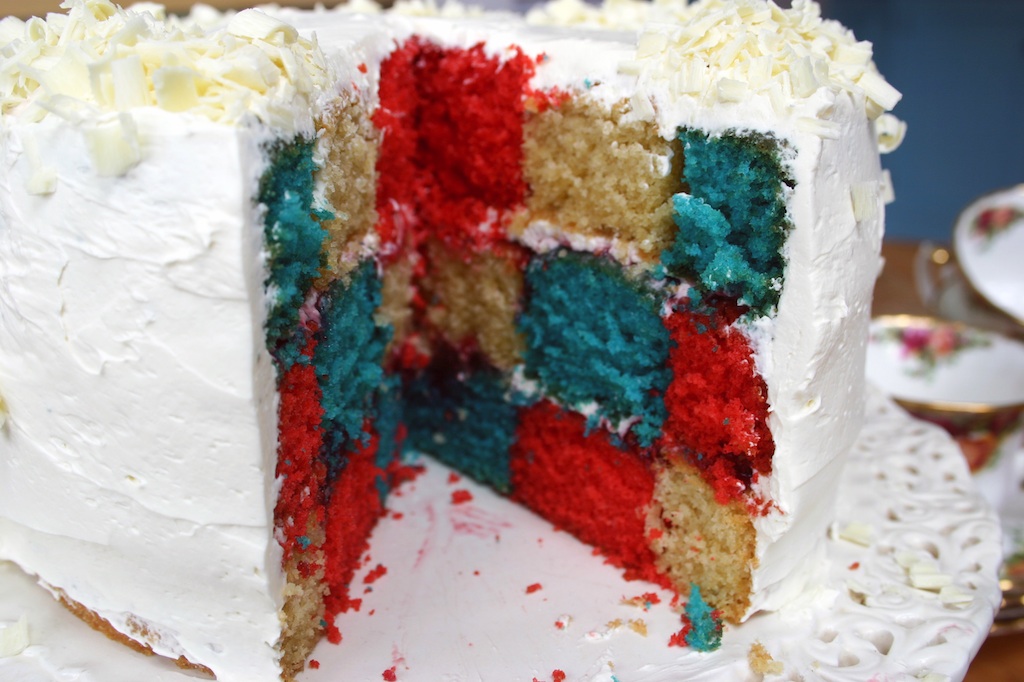 … of course I couldn't let this up-coming weekend pass without celebrating Her Madge's 60 years on the throne and I had been thinking long and hard about what I should create that both reflects her incredible tenure to our great country and also something terribly British and fun for all to enjoy on a sunny bank-holiday street party…
… and then my dear, sweet editor Caroline from Lincolnshire Life Magazine emailed in a panic… could we possible drop the article on the Skidbrooke Cyder Company, push it back to July… and pick up on a Jubilee themed bake of some kind… oh and you have 24 hours to turn something around!
… and so dear friends whilst this may look like a complicated cake it really isn't… you know me… I don't do complicated… it just takes a steady hand and an analytical mind… anyone who was good at rubiks cube as a kid would find this a blast…
Jubilee Celebration Cake
The cake is a flag-waving celebration of red, white and blue, covered in a double cream and cream-cheese frosting topped off with a white chocolate crown.  Whilst the cake looks rather complicated it is in fact rather a simple classic Victoria Sponge cake with a little food colouring.  Each layer is then cut into three concentric rings and shuffled around to create the checkerboard bunting effect. For some added flair I've sandwiched each layer with two flavours of jam from Lincolnshire's own Jenny's Jams.
You will need 3 x 20cm loose-bottomed cake tins.
For the cake layers:
6 large free-range eggs
425g soft butter or margarine
425g self –raising flour
425g caster sugar
1 teaspoon vanilla extract
red gel colouring
blue gel colouring
For the icing:
200g mascarpone
200g cream cheese
200ml double cream
2 teaspoons honey
– pre-heat the oven to 170c
– in a large bowl, cream the butter and sugar until light, pale and fluffy.  You can do this by hand with a
wooden spoon or with an electric whisk.
– Add one egg and beat it in then add a little four and beat it in then beat in the vanilla extract
– Now alternate between eggs and flour until it is all used up and you have a smooth creamy cake batter
– divide the cake batter equally between three bowls
– add half a teaspoon of red gel colouring to one bowl and half a teaspoon of blue gel colouring to a second bowl and stir them well in
– pour the cake batter into three prepared tins and bake for 25-30mins or until risen and a sharp knife inserted comes out clean.
– let them cool completely before using.
– in a large bow whisk the cream cheeses together with the honey, then add the double cream and whisk again until thick and spreadable
Now for the assembly, you will need to find two templates, one for the inner circle – I used a medium scone cutter, and one for the outer ring – I used the base of the loose-bottomed cake tin which has a deep ridge where the loose bottom sits which made a perfect outer circle.  Cut out the circles on all three cakes and swap them around so that each layer has a red, white and blue section.
Place the bottom layer on a cake-stand, spread the top with jam and sandwich the next layer on top, again spread this with jam and place the final layer on top.
Spread the icing all over the cake and smooth out with a pallet knife, shave a crown of white chocolate on top.
I've entered this cake in The Times Diamond Jubilee Baking Competition and it has already been shortlisted as a favourite.  The winner is to be contacted and announced today so it's unlikely i've won and I haven't been out to buy the paper yet… but it was fun baking…
… I also realise i'm rather late with a lot of these entries but i'm entering the cake into a few jubilee bake bloggers challenges nonetheless, including… Sarah at Maison Cupcake's Forever Nigella challenge, this month hosted by Nelly at Nelly's Cupcakes… also for Homemade by Fleur's Jubilee Baking Challenge
…and whilst its not quite 'in season' it is perfectly timed so i'm also entering it into Ren from
Fabulicious Food's
brilliant Simple and in Season challenge, this month hosted by
The Botanical Baker
…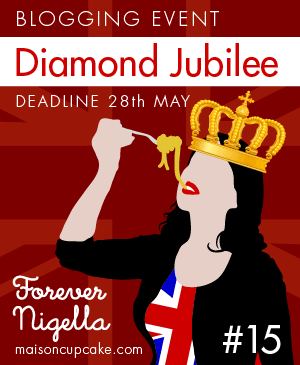 eat and of course, enjoy!