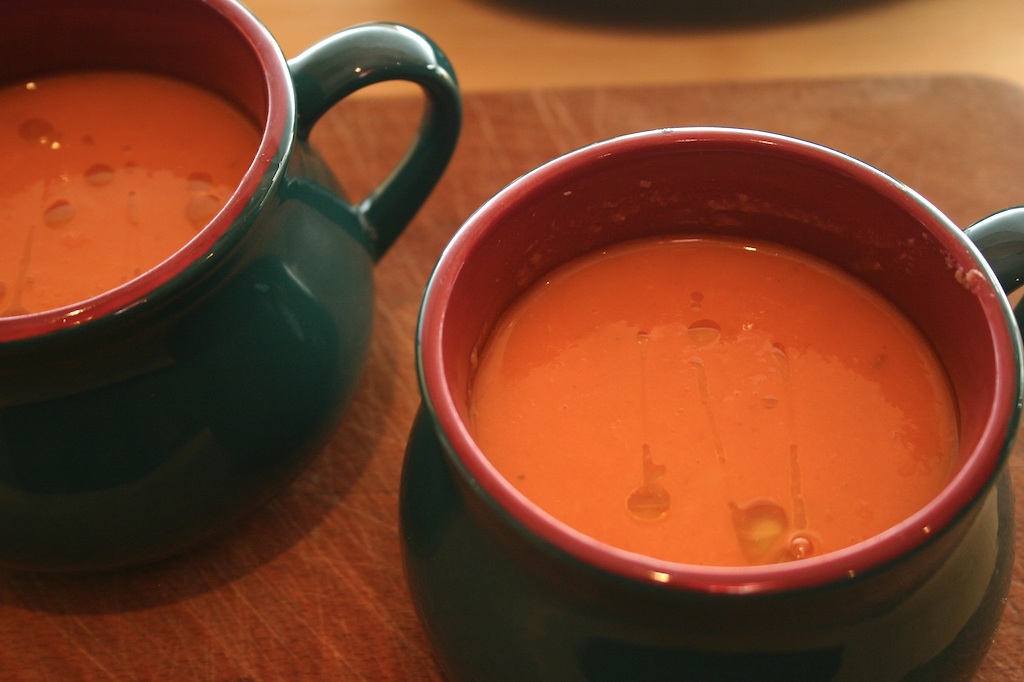 i'm not a huge fan of plain old tomato soup, I find tomatoes quite acidic and in a soup they can become rather bland… spoonful after spoonful of blah… so it was with slight trepidation and a little annoyance when I hadn't picked one of many of the the other amazing soups in the brilliant New Covent Garden Book of Soups… but as I further read the ingredients I could really see how the beans in the soup would add a lovely, rich and thick element making it very filling and rather more interesting…
… which is lucky because this month the devastatingly handsome Dominic from Belleau Kitchen and the breathtakingly beautiful Jac from Tinned Tomatoes have teamed up for …. oh you know the rest…


White Bean, Tomato and Sage Soup
It was a lovely soup but a bit of a faff to cook with all the soaking and I cant really see how using tinned, pre-soaked beans, could make it taste any different but save a heck of a lot of time!
150g dried butter beans – soaked in 200ml water for 1hr
60g dried haricot beans – soaked in 75ml water for 1hr
25g butter
1/2 medium onion – finely chopped
1 garlic clove – crushed
2 pints vegetable stock
1 heaped teaspoon tomato puree
150g tinned chopped tomatoes
1 teaspoon demerara sugar
1 tablespoon finely chopped fresh sage
salt
150ml milk
1 tablespoon double cream
– melt the butter and cook the onion and garlic gently until soft, in a covered saucepan without colouring
– add the stock, tomato puree, butter beans and tomatoes, cover, bring to the boil and then simmer gently until the butter beans are tender
– cool a little, then whizz with a hand-blender
– add the haricot beans, sugar, sage and salt to taste, simmer for a further 45 minutes until the haricot beans are tender.
– cool and stir in the milk and cream
oh and one last thing, can i ask that you take a look at The Viking's blog… his most recent post, about his mum and food, is rather wonderful x
eat and of course, enjoy!