as many of my regular readers will know I have recently been using my considerable Persuaders knowledge as an event consultant at Gunby Hall… and we had our first big event last night, an open-air production of Cranford by the brilliantly talented players from the Chaperhouse Theatre Company… the production took pace on the formal lawn with the Hall itself as a backdrop… and even though it rained all day, a mere half-an-hour before the guests arrived the sun came out and it remained dry for the entire performance… it was a great success and we plan to have many more…
… and just as I heave a huge sigh of relief i now have to prepare for Gunby's first Wedding Fair taking place next Sunday…!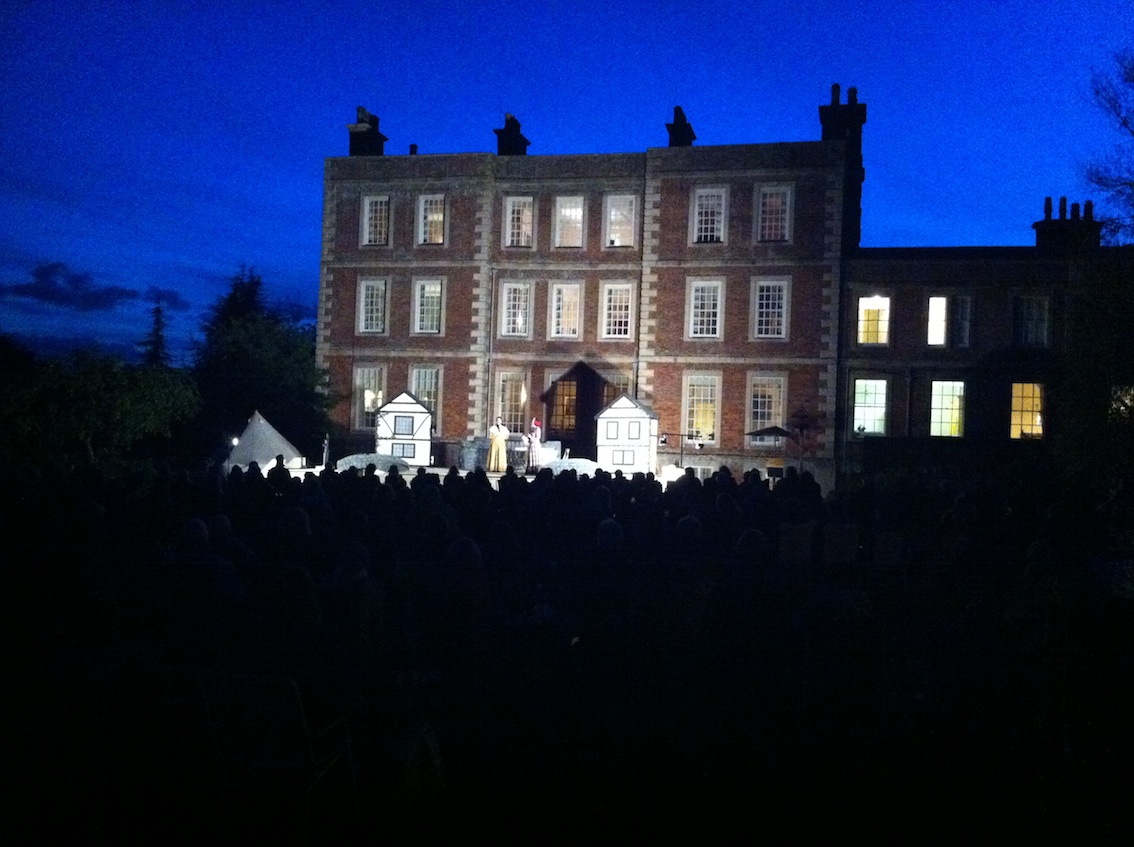 as darkness fell the Hall itself took on a life of its own… talk about stealing the show!
… today was all about being at home, finding time to centre myself and eating lots of comfort food and this hearty, warming stew hit the spot perfectly…
vegetable stew with pan-fried chicken livers
the stew includes some wonderfully rich mixed lentils and peas which need a pre-soak, i've also gone for chicken livers here as an added extra because i'm treating myself but the stew is actually 100% vegetarian… feel free to leave out the velvety goodness of the chicken liver should you wish!…
1 onion – chopped
2 cloves of garlic – chopped
1 medium hot chilli – finely chopped
1 medium carrot – chopped
2 sticks of celery – chopped
1 small leek – chopped
a handful of green beans – chopped
half a small savoy cabbage – finely chopped
1 tin of chopped tomatoes
1 cup of pre-soaked lentils and peas
1/2 pint vegetable stock
1/2 glass of white wine
salt and pepper and fresh herbs
1 packet of chicken livers (optional)
– saute the onions in olive oil and butter until soft, then add the rest of the vegetables apart from the cabbage and let them gently sweat and soften
– add the tinned tomatoes, wine, stock and pre-soaked lentils and peas and also the cabbage and let the whole thing gently bubble away for at least 2 hours… this really is the kind of dish that is better made the day before you want to eat it…
– if you're going for the added chicken livers, simply flash fry them in butter, add plenty of salt and pepper.  The livers should be dark and crispy on the outside and slightly pink within… float them on the stew like naughty little dumplings!
eat and of course, enjoy!