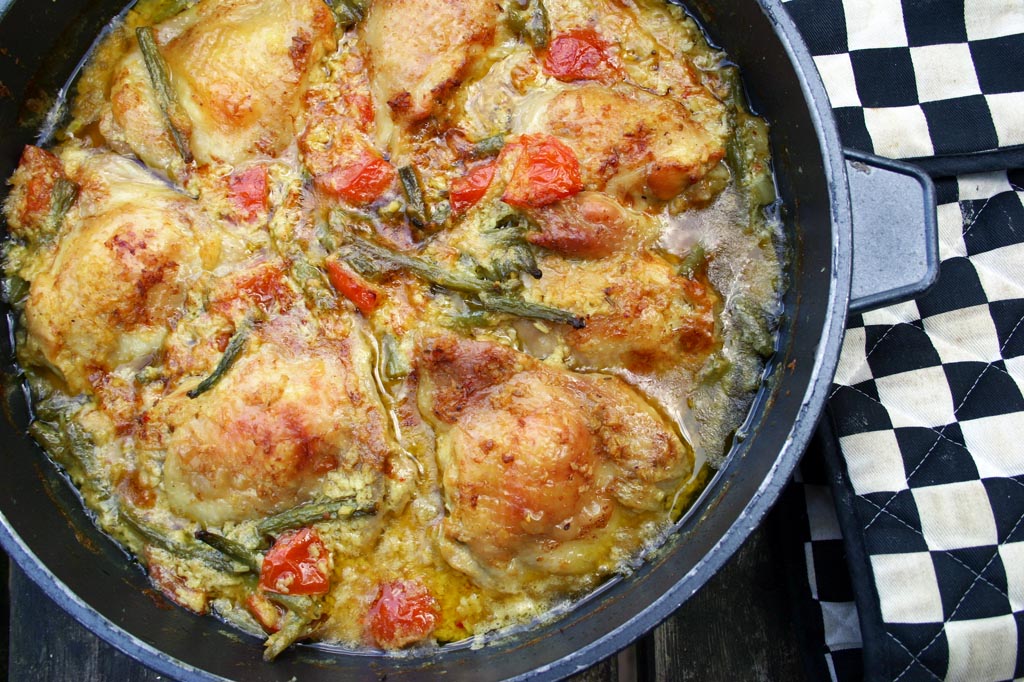 one of my current favourite food blogs is Michelle's most wonderful Food, Football and a Baby… Michelle was born in Mangalore, India but has lived in the UK and now currently lives in Canada… her recipes are excellent, mainly because they are so authentic… but she also seems to make everything so easy… so if i'm ever looking for a good curry in a hurry I will often turn to her blog for inspiration.
… this chicken curry with coconut cream is exceptionally good and very very easy on the pallet as it's nice and mild and very creamy…
… as is my way, I have taken liberties with Michelle's original recipe (mainly because I didn't have every ingredient in the store cupboard) plus i've gently roasted it rather than let is cook on the hob because I prefer that crispy finish to my chicken… but i'm sure Michelle wont mind but just in case you can find her original recipe here in which she includes a great recipe for rotti too.
i've also included some green beans, tomatoes and some of my purple carrots to make it more of a one pot stew…
Chicken Curry with Coconut Cream


1 large onion (chopped roughly)
3 tbsp coriander seeds
2 tbsp cumin seeds
1 inch stick of cinnamon (i used a teaspoon of ground)
4 cloves
4 cardamom pods
½ star anise
2 – 4 mild dried red chillis (according to taste)
Small handful of fresh coriander
¼ tsp turmeric
½ inch ginger
4 cloves garlic
1 tin (75 ml) coconut cream or ½ tin (200 ml) coconut milk
(Grind all of the above ingredients and then gently fry for 5 mins)
7 chicken thighs
½ onion, diced
2 tbsp ghee (or use vegetable oil)
Salt to taste, or 2 tsps
More fresh coriander, to garnish

– sprinkle the chicken thighs with salt and a little turmeric powder and then setaside for about 15 minutes.
– Grind the first 13 ingredients into a fine paste, saute gently for 5 mins until soft and then add coconut cream or milk as required for a thickish masala, then set aside
– in the same pan, fry the ½ onion in a little oil until lightly coloured, then add the salted chicken and saute in about 4 tbsp water till it's almost done, about 10 minutes or so.
– Add the ground masala to the chicken and stir well. If the masala is too thick, thin the sauce with hot water. The consistency you are aiming for is a little runnier than single cream.
– now you can either stick to the original and simmer gently, till the raw smell of spices disappears, around 20 – 30 minutes or place it in the oven on about 140C for 30 mins until golden


utter, utter heaven!


eat and of course, enjoy!