it was barbecue weather this weekend up in Lincolnshire and with guests at the cottage I couldn't resist but to fire up the coals… all I had to do was to find the perfect thing to grill… and the thing is I feel like i've moved on from the days of cooking a billion things on the bbq… hundreds of packs of sausages, chicken legs and those nasty processed burgers that come 'ready seasoned'… I guess because of our crappy, un-reliable weather, it seems to be a uniquely British quirk that we're not experts at using the bbq as an outside oven, rather we see the sun, buy coals and do this mad splurge of shopping followed by a ritual of burning meat and under-cooking chicken… 
… we are slowly learning from our international cousins that there is another way… choose just the one item, make it yourself and cook it beautifully on patiently burning coals (none of this gas bbq malarky… not for me anyway!)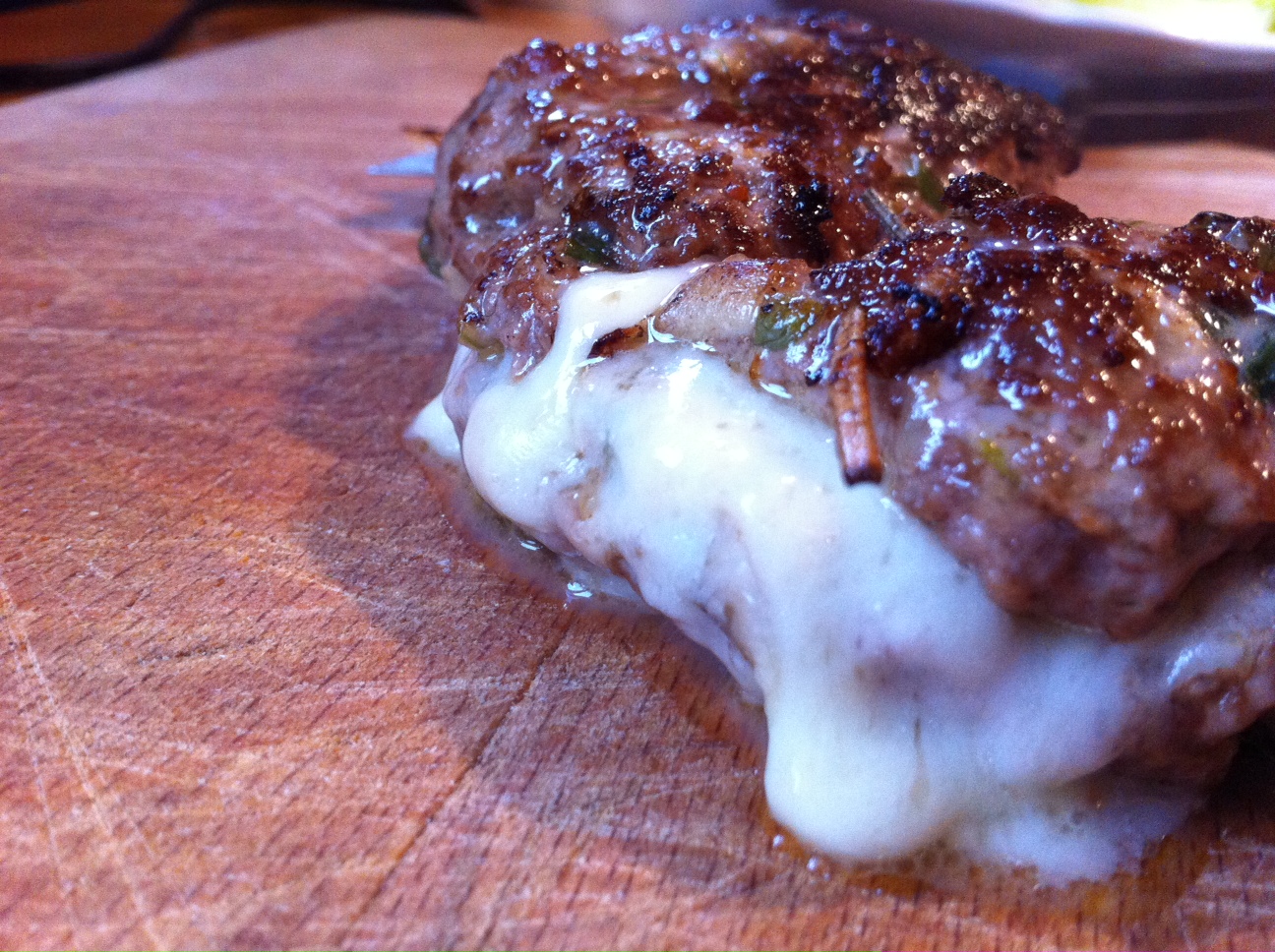 … and so it was with total inspiration from the brilliant
Food Viking
(no, not related in any way to my own Viking) I found myself purchasing a pound of minced steak and a block of very strong cheddar cheese…
… and then it started to rain!
cheese-on-the-inside cheeseburgers
my recipe gave us 6 very generous burgers, you could probably make 8 but we're all greedy pigs here…
… the Food Viking gives a great
step-by-step
to forming the burgers, so I won't go over it again here!
500g minced
Te
tford Longhorn
steak (purchased from the excellent Meridian Meats in Louth)
a bunch of spring onions (about 7) finely chopped
7 medium mushrooms – finely chopped
4 garlic cloves – finely chopped
a sprig of rosemary and thyme
a tablespoon of tomato ketchup
a tablespoon of light soy sauce
1 egg – beaten
seasoning
a large amount of strong cheddar cheese
– with a little oil and butter in a pan, gently saute the onions, garlic and mushrooms until soft, set aside to cool
– once cool, place all the ingredients (excluding the cheese) in a bowl and smoosh together with your hands, let this sit in the fridge for a good hour
– form the mince into burger size patties, halve them, then flatten each half.
– with one half in the palm of your hand, add a good spoonful of the grated cheese and then place the other half of the pattie on top. bring the seams together and roll the pattie around until you have a nice fat burger
because of the rain I pan-fried them all until golden and then finished them off in a very hot oven for a further 5 minutes… they were dripping with flavour as well as the cheese and were quite simply bloody fantastic!
– serve in a nice, soft white bread roll… the only way to go baby!
eat and of course, enjoy!