The thing is… all I can think about is the jam…
let me explain…. I have an old friend who I see perhaps twice a year (you know the way it is… love them dearly…should see more of them but you have a family, they have a family… we've all forgotten how to use a phone…) and on the last occasion we met, conversation got around to my food blog, as it inevitably always does, and he suddenly exclaimed that he'd been looking for the perfect person to pass on a place he had on a Guardian Masterclass, and that due to forgetting it was his own birthday and would be in Berlin, he couldn't attend.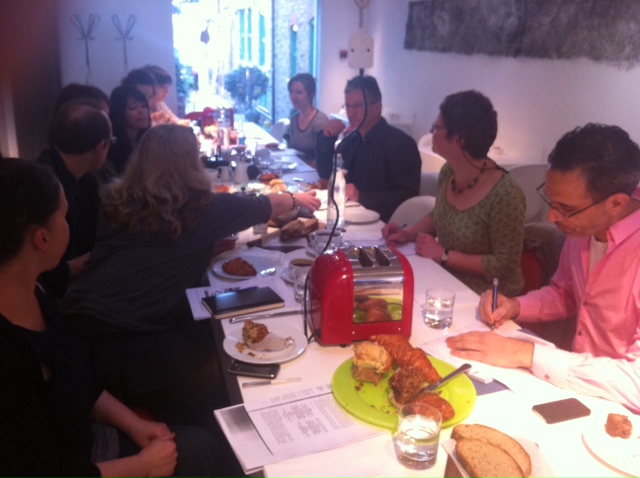 … I'll let that hover in the air a little bit shall I?… yes… I get to spend a day talking about food and food writing with THE Ottolenghi… you can imagine how my jaw hit the ground and how I swooped in for the kill and took the place on the course…
… and so here I am, writing to you LIVE from the masterclass, struggling to think about what to write because all I can think about is the jam we had this morning at the start of the course whilst we sat in Ottolenghi in Islington.
…and the reason?… well, it was banana jam… yes… banana… jam… and it was damn fine… sweet, a little sickly… and although I would definitely consider the banana to be very definitely a breakfast fruit, it was still such an unexpected thing to be spreading on my toast.
I hardly consider myself provincial but until this morning I had not only never eaten the stuff but I'd never heard of it either… who said you could put banana in jam?… I suppose thinking about it now it makes total sense… you'd make jam from your own plentiful and local fruit… hence we Brits make plenty of berry based jams from the summer glut and one assumes that it warmer climes they make jam from the more exotically available…. Breadfruit  jam anyone?
hard at work writing…
Anyway, the best bit of this whole thing is that Yotam himself leaned over the table and told me his secret recipe and with his kind permission (I'm about to ask..) I will repeat it for you here…
… well actually this is really mean of me but you're going to have to wait for the recipe because I want to make it and then post it but I also wanted to get this post off about my exciting day… so jam will come soon…
… part two of the writing course, tomorrow!