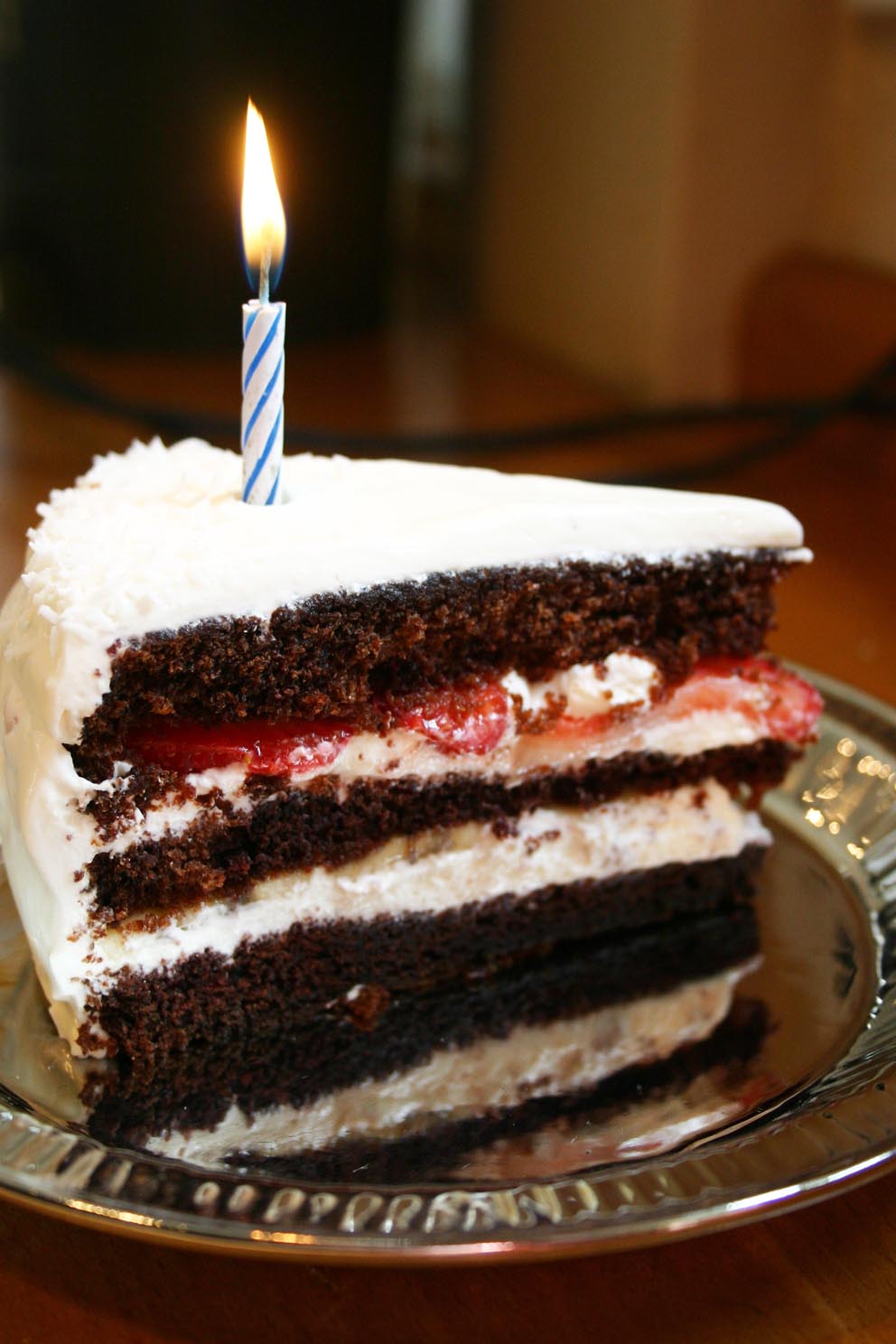 I thought i'd celebrate my 1st year as a blogger in style by baking myself a big fat cake.  I'm not really very good at creating those multi-layered, perfectly iced cakes that you drool over lustfully on blogs such as Chocolate Teapot or The Art of Being Perfect.  I'm more of a banana loaf kinda guy, but I wanted to at least give it a go, to make something a little special just for me…
… and that meant following a recipe to the letter, which if you know anything about me, I simply cannot do, however good my intentions are.  I even prepare both mentally and physically for the baking; setting out ingredients, making sure I have the correct utensils and equipment… but it just never comes off perfectly… i think it's all about patience… which I have very little time for!
for instance, this is supposed to be a 4 layered red velvet cake…and have used a whole bottle of red food colouring but it still came out brown… (probably too much cocoa) and I only had one 9 inch cake tin, so I baked it all as one and then sliced it into 3 layers… but I managed to go for the full effect (details below) and am quite impresses by my own icing… and this is THE most delicious cream cheese frosting… I emplore you to try it!
brown velvet layered cake with strawberries and bananas
for the cake
250g sifted flour
1/2 teaspoon salt
2 tablespoons cocoa powder
113g butter at room temp
300g granulated white sugar
2 large eggs
1 teaspoon vanilla extract
240ml buttermilk
2 tablespoons red food colouring
1 teaspoon white vinegar
1 teaspoon bicarb of soda
1 banana – sliced
6 strawberries – sliced
for the cream cheese frosting
227g cream cheese at room temp
227g mascarpone
1 teaspoon vanilla extract
115g icing sugar
360ml whipping cream or double cream
– pre-heat the oven to 175c and butter and line 2 – 9inch cake tins
– in a mixing bowl sift together the flour, salt and cocoa powder then set aside
– in another bowl beat the butter until soft and then add the sugar and beat until light and fluffy (you can use a hand mixer or a KitchenAid or Kenwood mixer if you have one… which I don't… something I have to live with ok…)
– beat in the eggs, one at a time, then add the vanilla extract and beat until combined
– in a measuring cup whisk the buttermilk with the red food colouring, now with the mixer on a low speed alternately add the flour mixture and buttermilk to the fluffed up butter and sugar.
– in a small cup combine the vinegar and bicarb, allow it to fizz and add it directly to the cake batter and quickly fold it in.
– divide the batter evenly between the two cake tins and bake for approx 25-30 minutes or until a skewer comes out clean.  It should be firm to the touch.
– cool the cakes in their pans for 10 minutes, then turn them out onto a wire rack and cool completely.  then transfer them to the fridge overnight.  This process will make them easier to cut and decorate.
– the next day, make the frosting by mixing the cream cheeses together until smooth, add the vanilla and sugar, gently mix again and then add the whipping cream and whip the whole lot together until thick
– now, slice the two cakes into two layers each so that you have 4 layers and sandwich the layers together with a small amount of the frosting.
– use the rest of the frosting to ice the outside of the cake.
stage 1: slice the cake into layers
stage 2: add the frosting and then the sliced bananas
stage 3: another layer and some sliced strawberries
stage 4: top layer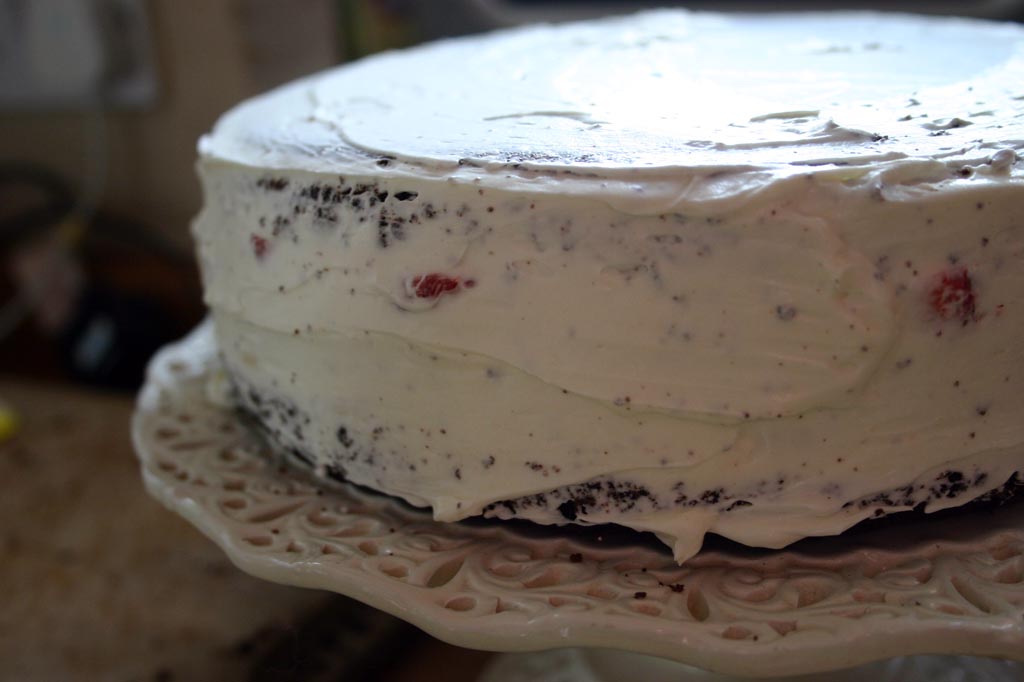 stage 5: a 'crumb' coating, then into the fridge for an hour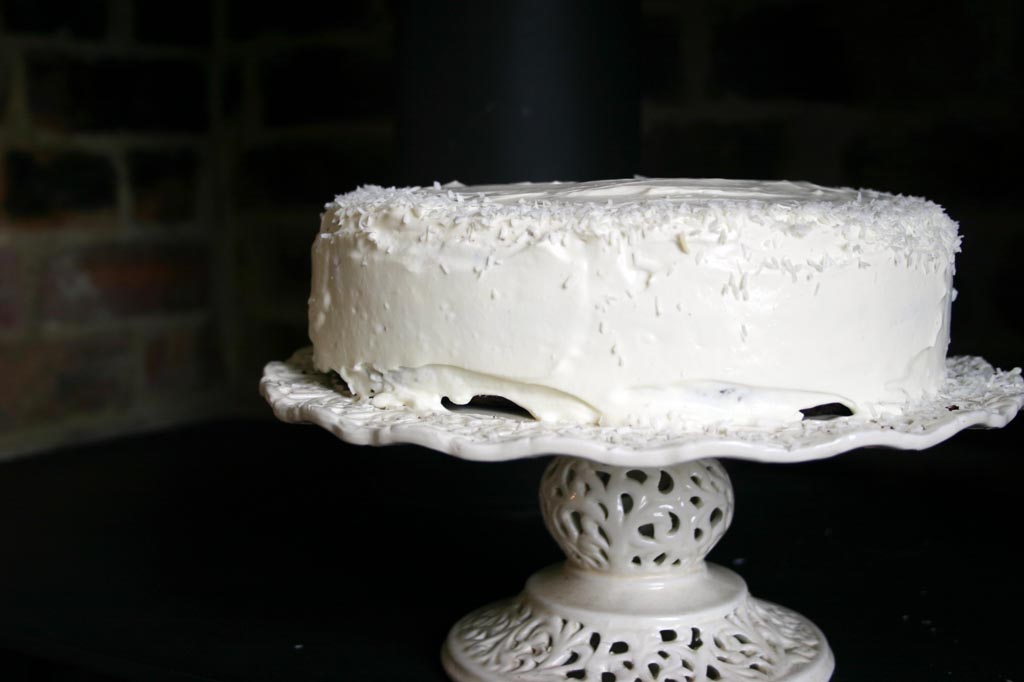 stage 6: the final layer of frosting and edged with coconut