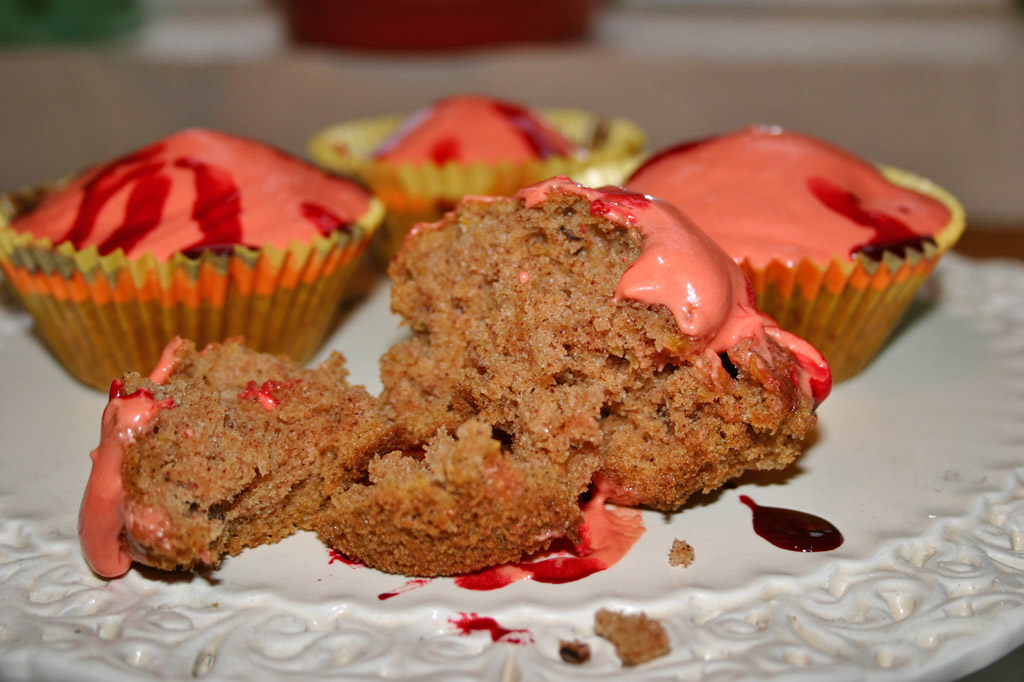 … up until about 5 minutes ago this was an entirely different post… I tend to write my recipes and thoughts for the day into the 'new post' edit box and then make the dish, altering what i've written to suit… and so it was with these fabulous cupcakes… but then, as they were baking snuggly in the oven and the warm scent of ginger and allspice wafted through the house I had an icing disaster… then I cut my finger really badly on a misplaced knife sticking out of the dishwasher and proceeded to bleed heavily over the whole kitchen…. flash of inspiration and a few drops of red food colouring later, I came up with a way to save the sloppy icing and still fit within theme… 


… it's a really simple recipe for using up those bits of hollowed out pumpkin and the inclusion of ginger and allspice makes for a spicy undertone which compliments the sweet icing really well… and I promie you the recipe is divine, they taste incredible…


… I just have to conquer my icing techniques… I just can't get the hang of it…


… now, other than the fact that it's Halloween tonight, I have absolutely no reason to make these… I mean obviously I wanted to use up the last wedge of pumpkin I had left over from my soup but we live in the middle of nowhere and our neighbours kids have grown up and moved away and staring at my ever expanding waistline I think I may have to do the trick or treating tonight and give these away… 


Ingredients for 24 cakes:
 
450g of plain flour
3 eggs
2 teaspoons cinnamon
1/4 teaspoon allspice or ginger
2/3 cup chopped walnuts
400g of caster sugar
1 cup vegetable oil
1 teaspoon baking soda
1 teaspoon baking powder
2 teaspoons pure vanilla
400g shredded fresh pumpkin
a handful of crystalized ginger – finely chopped 

For the cream cheese icing:

250g of unsalted butter
1000g of icing sugar
2 teaspoons of pure vanilla paste
500g Cream Cheese

– grate 400g of pumpkin chunks.

– Sift together the plain flour, baking soda, baking powder, cinnamon and allspice. Add the walnuts now too as this will stop them sinking to the bottom of the cupcake.
 
– Measure the sugar, oil and vanilla into a large size bowl and stir to combine. Add the eggs one at a time, whisking after each addition.  This is the wet mixture.
 
– Add the majority of the dry mixture to the wet and stir until just combined. Add the remaining dry mixture very slowly until all incorporated.  This will result in a very thick batter.  Do not overbeat!
 
– Fold the pumpkin and crystalized ginger into the batter with a large wooden spoon.

– Pipe or spoon the mixture into cupcake cases about 3/4 full.

– Bake at 350 degrees, until the cupcakes are golden and a toothpick comes out clean, which should take between 20 and 25 minutes.

– Finish the cooled cupcakes with generous helpings of bright orange cream cheese icing and decorate accordingly.


trick or treat and of course, enjoy!