i have set myself a little challenge… play along if you feel so inclined… you see I have been so inspired watching Jay Rayners' brilliant 'Food – What goes in your basket?' that I have decided to purchase a whole chicken every weekend… and then find a different way to cook with it.
… you see, the chicken is my basic staple, I love it for its flexibility… all those wonderful things you can do with it, from the basic but sumptuous roast, to pan fried with pancetta, or pot stewed, curried, barbecued… the list is quite frankly, endless… and if you buy a whole chicken it's not only cheaper but tastier and even more versatile.
so I started last week with my One-Pot Roast Chicken but I thought, this week i ought to at least learn how to joint a chicken, so that I can use it in more ways… and so I refer you, dear reader, to the excellent, most definitely not for vegetarians, 'Meat' by HFW… a book I stole from the 'Best Book' display when I was organising the Observer Food Monthly Awards in 2007… naughty yes, but the perks of the job if you ask me!…
…the jointing was pretty damn easy to be honest and at 40, about time I knew how to do it…
… and with my jointed chicken I'm going for a curry… should last me a few days…
Anjum Anand's Punjabi Chicken Curry


I love Anjum Anand's style of modern Indian, but this classic is a really easy to eat, crowd pleaser.  I've adapted and changed certain elements mainly due to lack of ingredients and I've thrown in some risotto rice at the end to soak up all that delicious liquid…
… oh and I also made a small veggie version for The Big V… I just used 2 pans and followed the same method for both, but when I added the chicken to my pan I added veggie sausages, carrots and mushrooms to the veggie version… other than that it's exactly the same except I used more of everything to make the curry paste.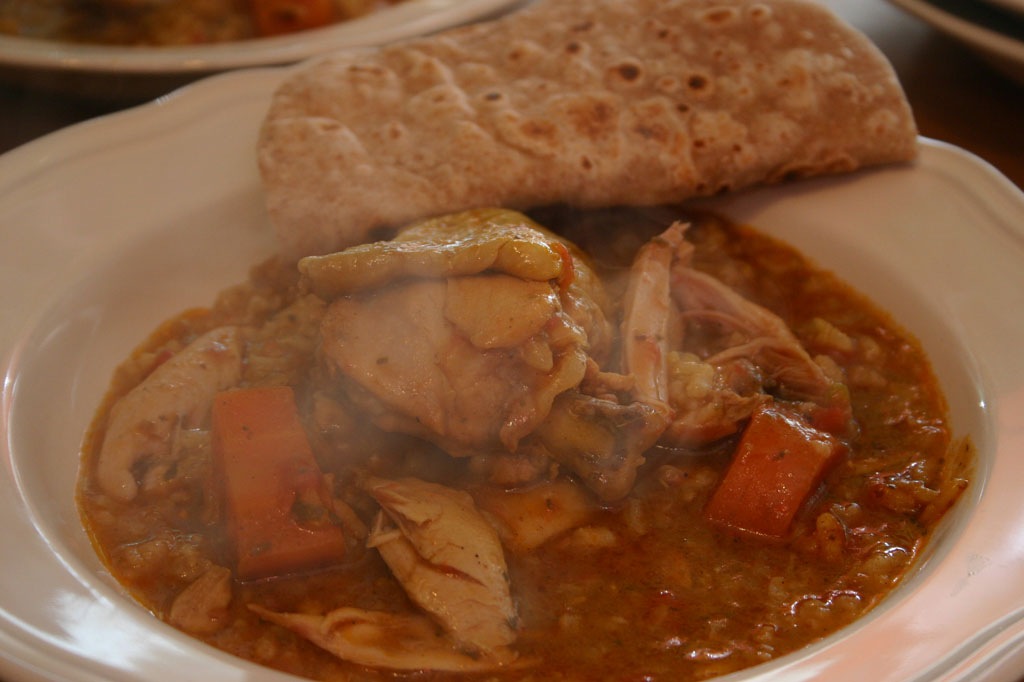 15g fresh ginger, peeled
10 large cloves of garlic, peeled
4 small black cardamom pods
4 cloves
a 5cm piece of cinnamon stick
5 tspn vegetable oil
1 bay leaf
1 medium onion, finely chopped
2 green chillies – whole put pricked with a knife
750g of chicken joints
5tsp ground coriander
1/4tsp red chilli powder
1/4tsp tumeric
1 1/2 tsp garam masala
salt, to taste
3 medium tomatoes, cut into small wedges (I used a tin of chopped toms)
a handful of rice (any rice but I used risotto, because I had it in the cupboard)
– using a blender, make a fine paste of the ginger and garlic with a little water, set aside.
– place the black cardamom pods in a mortar, give them a bash with the pestle, then remove the husks to leave only the seeds. Add the cloves and cinnamon and grind to a powder. (to be honest I used regular cardamom and just ground the whole lot together…)
– heat the oil in a large non-stick frying pan or casserole dish.  Add the bay leaf and onion and cook until brown, around 8-10 minutes.  Add the green chillies and ginger and garlic paste and cook until golden, around 2-4 minutes.
– add the chicken (or veggie stuff) and brown gently over a moderate heat, stir in the spices and the salt and give the whole pan a good stir.  Add the tomatoes and enough water to come 2.5cm up the pan.  Bring to a boil, then cover and cook over a low heat for 15 – 20 mins
– uncover the pan, increase the heat to high and brown the masala.  This will add a lot of depth to the flavour.  Toss and turn the chicken in the reducing paste.  once the water has reduced, lower the heat and continue for another few minutes.  Then add enough hot water to the pan to come to more than halfway up the chicken joints, bring to the boil, stir in the fresh coriander and serve.
– At this point I kept it on the hob and lowered the heat, added the rice and let that soak up the liquid.
… oh and whilst writing this post my dear neighbour Tracey turned up with a belated birthday gift of an Ice Cream Maker!  Woo Hoo!… can't wait to start using it… think of the possibilities!
eat and of course, enjoy!