Sorry about the title but I always wanted to use it so today's my excuse!
Can you believe that I have never made pizza before?  I think that before the blogging started I was on a very boring (but tasty) rotation of familiar, regularly made meals… this experience has opened my eyes and made me stretch my culinary skills.  I think we all tend to have a small circle of favourite dishes which we rotate with frequency and then occasionally branch out to slightly more daring recipes, but still within our excepted boundaries… for some reason, Pizza was just never on my list.
Whilst working in London we've been eating a LOT of pizza … it's relatively cheap and we try and choose decent Pizza places such as Pizza East in Shoreditch.  I'm not reviewing here and although their pizzas are pretty good, I always think I can do better but seeing that i've never made one before I could hardly comment…
So, knowing my good blog friends, I knew i'd be able to find a decent pizza dough recipe (the toppings I believe I could stretch to being inventive myself…) and where better to go than Luigi from Tales of Italy  the full pizza dough recipe is here and also some excellent tips and musings… it's a great blog.
Pizza Dough


1/2 teaspoon fast action dried yeast
300g strong white flour
1 teaspoon salt
1 tablespoon olive oil
150 ml water
It's a basic dough recipe and you combine all the ingredients anyway you like. (by hand, by sea, by air…) It needs a good 30 mins to rise, but once it's risen you can stretch it and shape it into your base.  Very thin is what i'm after.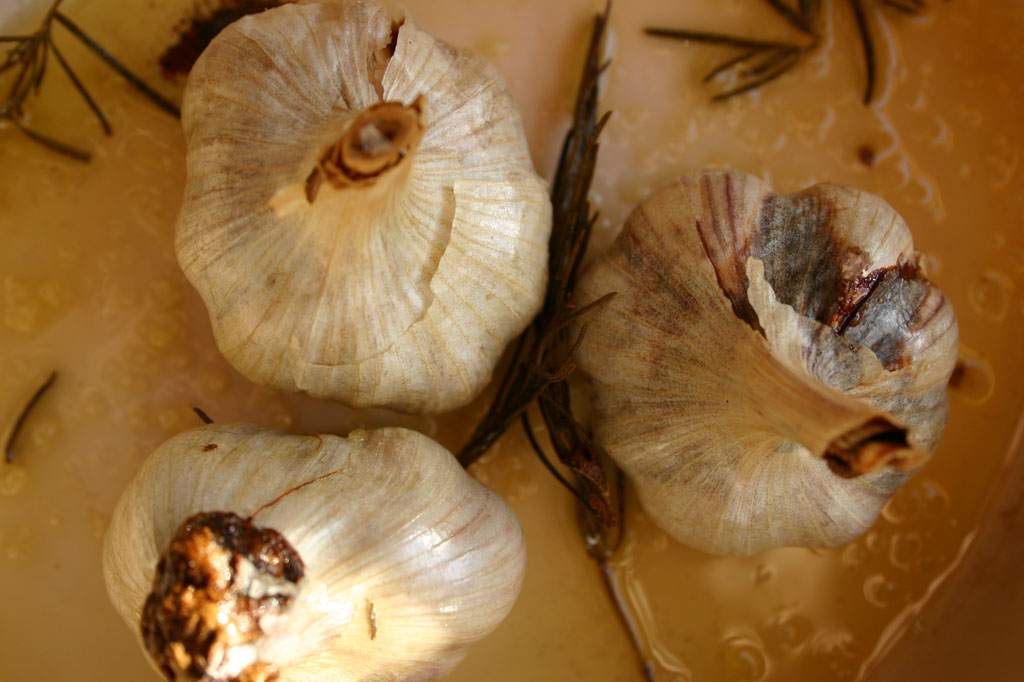 I also wanted this to be packed with flavour and i've plenty of time this weekend so I thought i'd roast some garlic to include in the dish.  Roasted garlic is always good to add a depth of garlic flavour to any dish… it's a mellow depth, if that makes sense… I roasted the garlic on a low heat with olive oil and rosemary for about an our.  I've used the garlic in the tomato sauce and with the mushrooms for the topping.
So, i'm not in anyway trying to make an authentic Italian pizza, just following the basic steps … pizza dough… tomato sauce base… topping… so i'm sure many of you out there have more authentic recipes but this is what i've done.
Tomato Sauce


2 tins of good quality chopped tomatoes
roasted garlic (4 cloves)
6 shallots (very finely chopped)
rose wine
balsamic vinegar
salt, pepper and sugar
rosemary and bay leaf
For the tomato sauce i've followed an old recipe that I use for the courgette pie I made back in May, which is basically sweating the finely chopped shallots until they literally disapear, then adding two tins of good quality chopped tomatoes, some rose wine, balsamic vinegar, salt, pepper, a teaspoon of sugar, tomato ketchup and herbs… and I let this gently bubble for at least 2 hours till it's a totally reduced sweet sticky sauce.
As Luigi tells you in his blog, the trick is to get the oven very hot and to use some kind of pizza stone or flat tray.
Once the pizza dough is rolled out to the thinnest you can get it, you place it on the hot stone and as quick as lightning add the toppings, which in my case is the sauce (not too much), some garlic mushrooms which have been slightly pre-sauted, some spinach and i've torn up a mozzarella ball to top it.
It should take no longer that 10 mins in the hot oven but it depends on how well done you like your pizza.
It tasted great… I wish I had one of those wood-fired oven so I could achieve that incredible smokey taste but nonetheless i'm pretty please with myself.
do it like this and then you too can get a pizza the action!
eat and of course, enjoy!