Don't be scared of the barbie!
My barbecue is hotting up and these little gems are a delightfully different and easy way to do chicken.
The marinade is olive oil, honey, balsamic vinegar, English mustard and a dash of ketchup. Dice the chicken and then cut the mushrooms and onions into a similar size and let them marinade for at least an hour.  Before their marinade time is up, cut a lemon into chunks and add this to the marinading chicken.  I tend not to add lemon to chicken marinades till the end of the process as the acid in the lemon can cook the chicken and leave it slightly tough.
Then skewer the pieces onto a wooden stick and place on the barbecue, turning frequently. A nice tip here is to soak your wooden skewers in a tub of water for 10mins before you BBQ them and then they wont burn so quickly!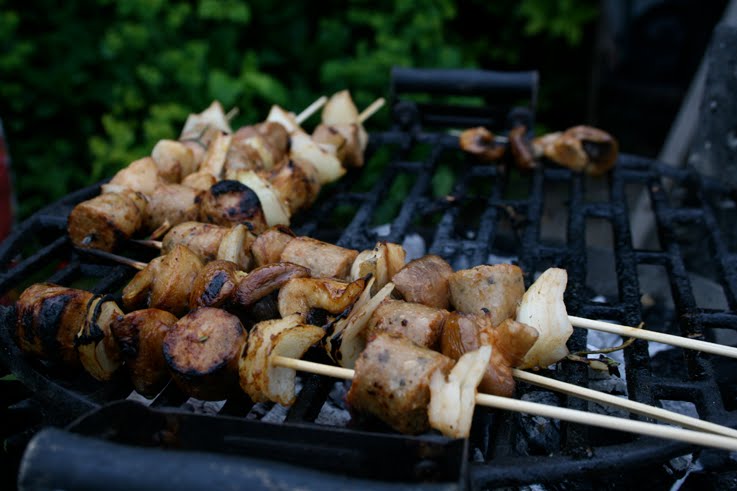 veggie sausage skewers with onion and mushrooms
For The Big V i'm doing the same with some lovely veggie sausages from Cauldron, which I find are the best for the barbecue as they have a good texture and hold their shape.  I've cut them up into large chunks for the skewer.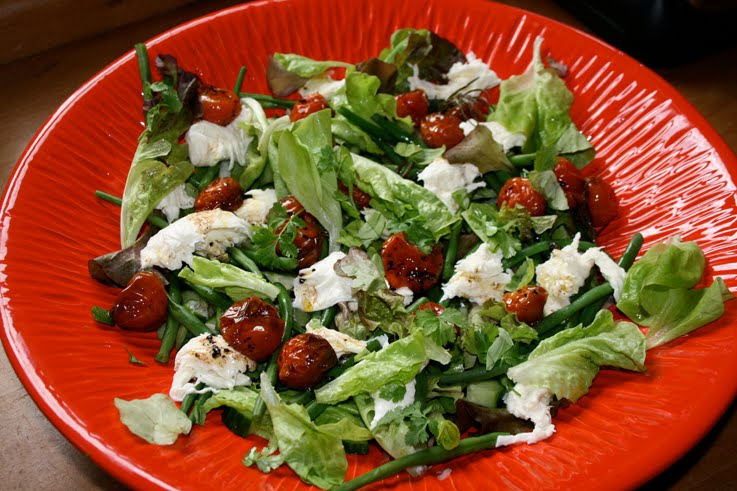 I'm serving these with a green bean and roasted tomato salad and some asparagus tips I've barbecued as well and lovely Tracey has made her fabulous potato salad with parsley and fresh mint grown from her garden as a fine accompaniment.
eat and of course, enjoy!