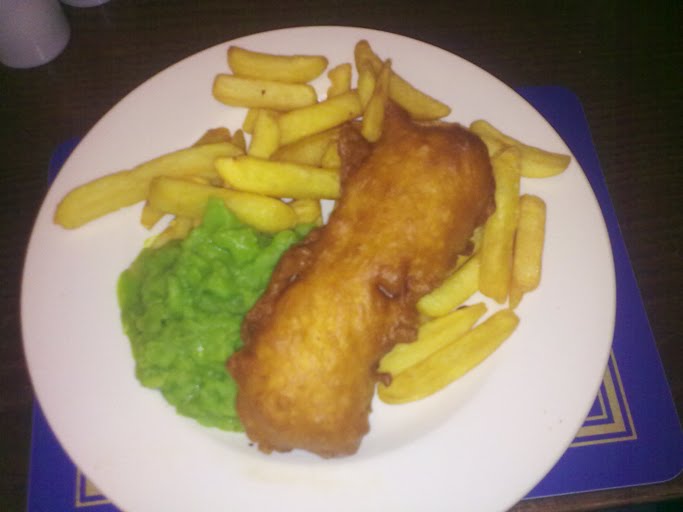 Out across the pasture, beyond the bubbling trout stream, we're blessed with a really wonderful pub.
Situated in the next village of Aby, we can actually see the Railway Tavern from our cottage… which is handy when you're desperate for a drink… the mental leap (as well as the physical one) is not too far!
It is truly the heart of the community.  The owners, Keith and Dawn along with their daughter Holly are the social barometer of our lives… when times are tough, they are there with a friendly smile, a cheap pint, and a comforting ear to be bent… when times are good, their doors are open to all, with a cheesy disco on New Years Eve, a good selection of quality wines and the best, home-cooked pub grub for miles around.
Their organising of events such as the local Olympics (and Winter Olympics) are hysterical fun but it's their food that really drives me there…. and believe me, we've walked through fog, wind, snow, rain and a torrential river to get there…
Classic dishes like fish, chips and mushy-peas… and we're talking fresh Grimsby fish, wonderfully light and crispy batter and good quality, proper chips. Great pies and lasagnes and a truly original vegetarian recipes that put some London chefs to shame.
Dawn (a one-woman kitchen miracle) will even make you something special if you can't decide what you want from their extensive menu…  often, The Viking will have a home made mushy-pea pie that she whips up in seconds! (Why do vegetarians dishes always get over-thought and end up with some daft goats-cheese tartlet or tomato goo, when all they want is for the chef to make them what we're all eating – just without the meat…?)
They often do a themed night like the St Georges Day feast, where Dawn will cook up a selection of classic English dishes, or a Gourmet Night, where she will bring out all the stops and get creative in the kitchen.  Local, seasonal produce is always a given, with pheasant and other game regularly on the menu during the shooting season.
Her home-made apple crumble is a particular favourite of mine and she knows that I like it cold with cream… her crumble is always thick with topping and never too sweet.
Keith, a fine figure of a man, is perhaps the cheeriest bar-keep in the world… I can honestly say, even in the gloomiest of times, I have never seen him down… and they've had gloomy times.  Now is not the best of times to run a public house (they say that one closes every week in the UK…) and 2 years ago we had terrible floods locally and their pub was ruined, totally flooded, which meant nearly 8 months of closure… the loss of business would have closed many pubs down and turned many off from re-opening but not Dawn and Keith.
So… last night, when we couldn't be bothered to open the fridge, The Railway Tavern was there.  Fish, chips and mushy-peas for me and Brie crumble for The Big V.
Nice!