I've made this butterbean, pea and feta toast because everything I've been cooking has all been a little bit beige.  Don't get me wrong.  I LOVE beige food, particularly at this time of year when you're craving warming comfort food. But something inside of me clicked and called out for green.
Butterbeans are one of my favourites and beans in general are a wonderful source of protein and have become all the rage recently, so I was delighted when the good folk at the Bold Bean Company sent me a selection of their beans to say thank you for using their products in my instagram reels and helping them get into Sainsbury's, which is so brilliant.
This dip is inanely easy but delivers on all fronts; colour, texture and flavour.
200g frozen peas
300g butterbeans –  roughly half a jar from the Bold Bean Co
1 tablespoon greek yoghurt
100g feta cheese
1 garlic
1 tablespoon fresh chives – chopped
the zest off 1 lemon
olive oil
salt and pepper
You'll also need some bread for griddling – I've gone for some sourdough. Plus any toppings.  I had some smoked salmon on one and a fried egg on the other.
The first thing you need to do is blanch your peas in hot water.  Boil a kettle and pour the boiling water over them in a bowl or pan.  Leave them to sit for 4 mins, then drain and drizzle with just a dash of olive oil.
Place all the ingredients (reserve a teaspoon of peas and a little feta for dressing later) into a food processor and blitz.  I don't like it completely smooth but stop when it's a consistency you like.  Taste it for seasoning and add a little squeeze of lemon juice or more salt and pepper to taste.
Serve on griddle bread with an egg or smoked salmon and a sprinkling of more feta and the reserved peas.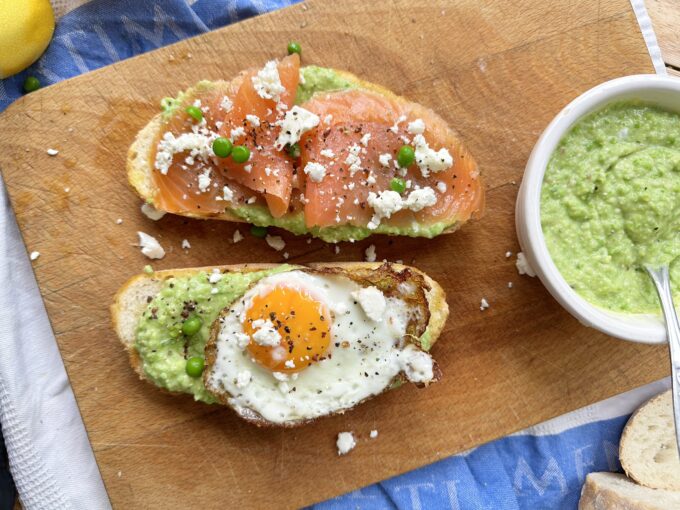 For more dips, sauce and hummus, check these out on Dom in the Kitchen.
Eat and of course, enjoy!