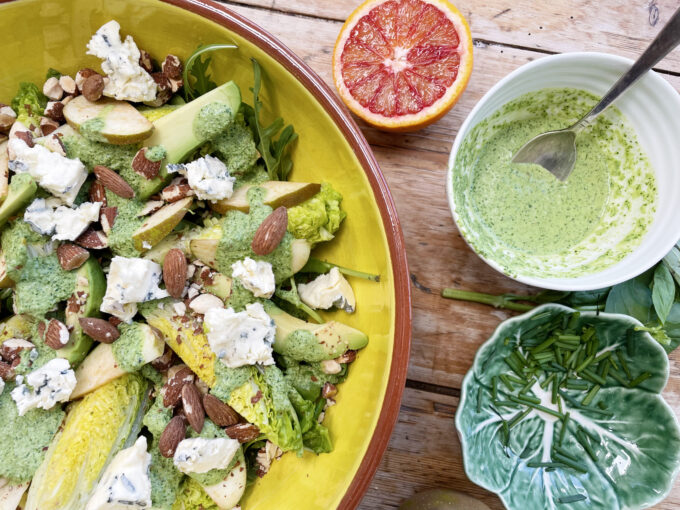 There have been a lot of Green Goddess Salad on the socials recently and they always look so wonderfully yummy and healthy.  I'd never really heard of Green Goddess dressing until recently but doing a bit of research it seems there are a number of ways to make it as long as it contains the key ingredients of yoghurt, fresh green herbs and garlic then you can pretty much make it how you want.
As usual I went with what's in the fridge plus the salad I drizzled it all over was so simple it's really rude to even call this a recipe… but here goes:
for the salad
2 bunches (or 1 salad bag) of fresh watercress
1 small handful of rocket
2 baby gem lettuce – quartered
1 avocado – quartered
1 russet apple – thinly sliced
50g roasted almonds – roughly chopped
75g creamy blue cheese
for the Green Goddess Dressing
2 tablespoons Greek Yoghurt
1 bunch of fresh basil leaves
1 small bunch fresh coriander
roughly 10 chive stalks – chopped
1 garlic clove
1 tablespoon olive oil
Make the salad in a large shallow bowl.  Simply layer all the ingredients starting with the watercress and rocket, then lay the wedges of gem lettuce on top followed by the rest of the ingredients.
For the dressing, place all the ingredients into a food processor and whiz together until thick and gloriously green.  Pour all over the salad and serve.
For more salad recipes check these out on Dom in the Kitchen.
Eat and of course, enjoy!