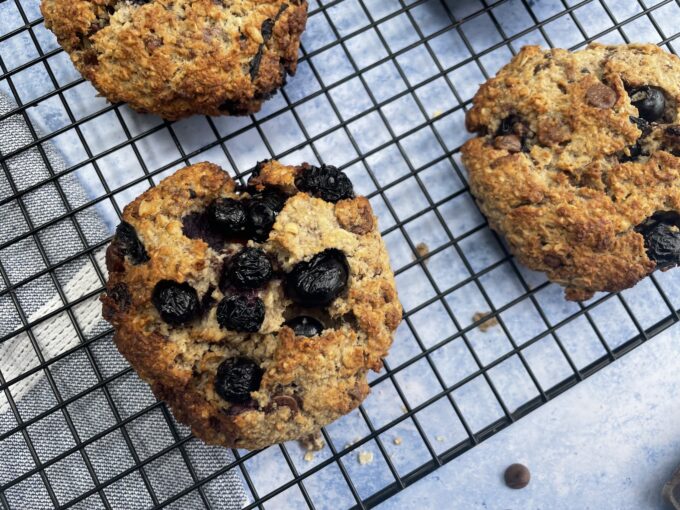 No idea why these blueberry & banana choc chip breakfast cookies are called breakfast cookies but that's what those pesky little kids on the social medias have deemed they should be called and so that's what I'm making.  Well, this is my version of them anyway. I've used muesli, banana and blueberries to give these a nice texture plus the honey really adds to the overall 'breakfast' vibe.  ~The chocolate chips are of course an added bonus but they were very welcome.
I served mine on a large dollop of greek yoghurt which was quite frankly, genius. Well done internet!
1/2 banana – mashed
1 egg – beaten
50g butter – melted
2 tablespoon golden caster sugar
1 tablespoon runny honey
50g ground almonds
180g muesli
50g chocolate chips
50g (or a handful) blueberries
baking powder 1 tsp
½ teaspoon ground cinnamon
Heat the oven to 180C fan. And prep two baking trays with baking paper.
To make these blueberry & banana choc chip breakfast cookies, Put the banana in a bowl and mash it with a fork until it's good and mushy, add the egg with the melted butter, sugar and honey. Mix the flour, oats, baking powder, granola, choc chips, blueberries and cinnamon, then pour the liquid ingredients into the dry. Mix well until combined, then leave for 10 minutes for the ingredients to meld.
With wet hands, form the mixture into balls – you should get roughly eight small or 4 large. Place them onto the baking trays and push down with a fork to flatten.
Bake for 15 minutes, or until risen, crisp and golden at the edges (the middle will stay quite soft). Leave to cool on the tray for 10 minutes, then transfer to a wire rack to cool completely.
These will take 10 mins in an air-fryer set to 170C. I used my Haden Multi Pro Health Grill and Air Fryer which I currently have a special discount code for 20% for all my readers.  Use code: DOM-20 when checking out.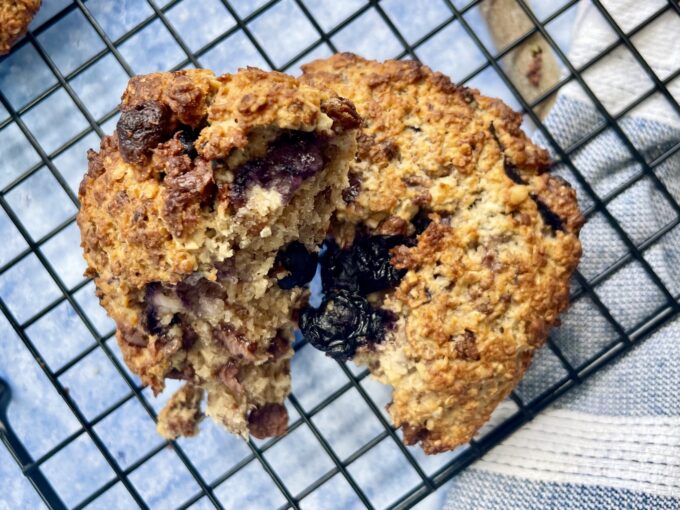 For more cookie recipes check these out on Dom in the Kitchen.
Eat and of course, enjoy!