Basil… in a cake?  I do love it when savoury surprises you with how well it can work in sweet dishes.  The carrot is a fine example of this but there are actually lots of herbs that also travel this road.  Basil has a heady sweetness to it that works so well in a cake and this basil and orange cake is stunning.
Sometimes I just love making cake. I find it quite relaxing, especially the process of beating the sugar and butter.  I love the way it becomes pale and fluffy.
I made a really big cake for this one using my Nordic Ware 1.5lb loaf tin from Divertimenti and as such I used 250g of butter, which may seem a lot but it makes for a gloriously rich cake. To counterbalance this I've made a cream cheese frosting with honey which is not too sweet but compliments the cake beautifully. I also used some glorious little hens eggs that our neighbour gave us. Because these were all multiple sizes I opted for the 'weigh the eggs' method so I used 250g of these mixed eggs sizes.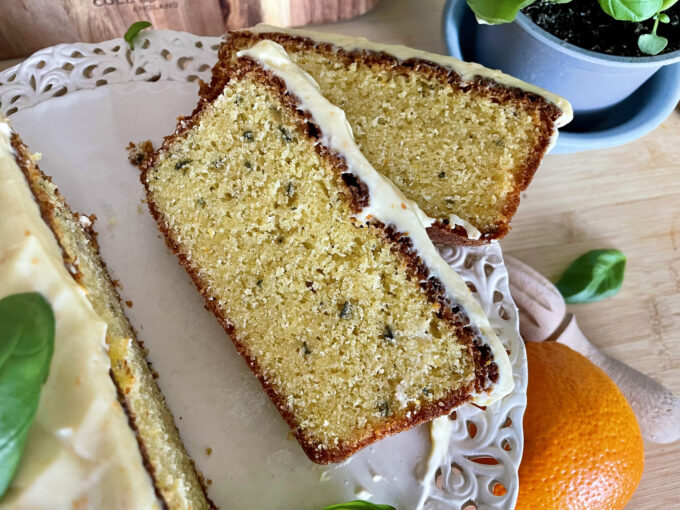 for the cake
250g caster sugar
250g butter
4 large free range eggs (or the equivalent of 250g of eggs weighed in their shells.)
180g self-raising flour
70g ground almonds
the zest of one orange – finely grated
1 tablespoon fresh basil – finely chopped
for the cream cheese frosting
1 x 150g tub of full fat cream cheese
the zest of one orange
1 tablespoon runny honey
Ensure you grease and line your cake tin. (As mentioned above I'm using a 1.5lb loaf tin.) Pre-heat the oven to 170C fan.
To make the cake, beat the butter and sugar until pale and fluffy.  I'm using my stand mixer for this and it takes about 1 minute on high, but an electric whisk would work or just a large bowl and a wooden spoon and lots of elbow grease!
Next, beat in the rest of the ingredients until you have a light and blended cake batter.  If it's looking a little thick, add a dash of milk to loosen it. The batter should easily drop off a spoon.
Pour the batter into the cake tin and bake for 45 mins or until risen and golden and a skewer inserted into the cake comes out clean. Set aside on a wire rack to cool, then remove from the tin.  The cake can be frozen at this stage or simply stored in an airtight container. It should keep fresh for 3 days.
To make the frosting, simply mix the ingredients until you have a smooth and slightly runny icing. Slather it over the top of the cake before serving.
For more cake recipes check these out on Dom in the Kitchen.
Eat and of course, enjoy!