Tea and Crumpets with Haden
I'm fortunate enough to be working with the wonderful guys at Haden who have gifted me their beautiful new Highclere Kettle and Toaster in Poole Blue.  I mean, how fabulously do these work in my kitchen? it's almost as though they made them just for me.
To celebrate their new range of home appliances they've given me a whopping 20% discount code to share with my readers.  It's only available from today, Friday 11th Feb at 6pm until Sunday 13th at midnight and you can use it on their website to put towards any purchase.  Visit the Haden website and simply use the code DOM20 at the checkout.
With this wonderful range that evokes classic British stately homes what better recipe could I share than one for Tea and Crumpets?  This crumpets recipe is ridiculously easy to make but incredibly delicious.
Ingredients (makes 12 crumpets):
300g plain white flour
200ml water
200ml milk
1 teaspoon salt
1 teaspoon sugar
2 teaspoons baking powder
2 teaspoons dried yeast
Start with the crumpet batter.
Add the flour, water, milk and salt to a large mixing bowl and whisk vigorously for about 5 mins until you have a batter the consistency of single cream.
Add a tablespoon of water to your dried yeast to make a thick paste, then add the sugar, baking powder and yeast mixture to the batter bowl and mix for another minute until you have a thicker batter.
Cover the mixing bowl with a tea-towel and put into a warm place for 15 mins.
Now to make the crumpets.
You'll need either some crumpet rings (I used these from Amazon) or some metal cookie cutters would work. Brush the insides with a little vegetable oil and place them into the middle of a non-stick frying pan. Pre-heat your frying pan on a hob on a medium-high heat setting.
Give your batter a quick stir then using a ladle, drop roughly 60g of batter into the cutter inside the pan.
Let the crumpets cook for roughly 4-6 mins.  Little open bubbles should appear on the top. Carefully lift the ring off the crumpet and remove the baked crumpet from pan.  If the top of the crumpet looks slightly undercooked, simply flip it over for a few seconds.
Allow them to cool completely on a wire rack then toast them and eat them with lashings of melted butter!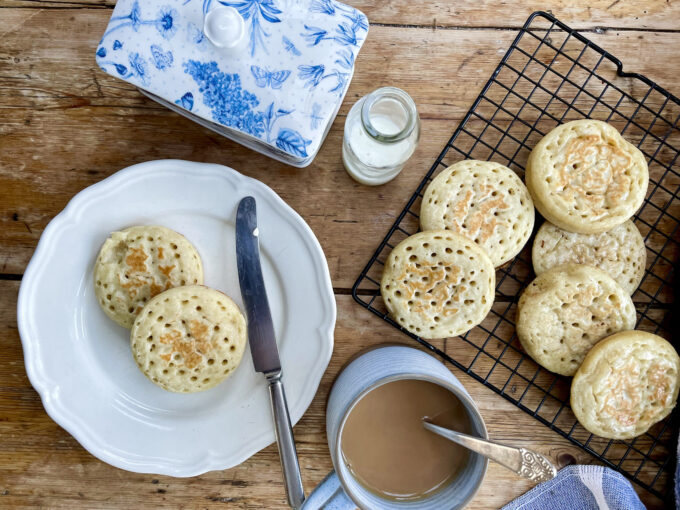 For more afternoon tea ideas, check out these recipes on Dom in the Kitchen.
Eat and of course, enjoy!