Cauliflower Coconut Curry with ZENB veggie sticks crunchy topping
This cauliflower coconut curry is the most wonderful warming stew, which is perfect for this time of year.  You know how much a I love stew but I normally go for something a little more traditional. I love how fragrant the cauliflower coconut curry is (the whole house smells amazing!) I'm actually surprised by how quick and easy it was to make but it's actually quite simple and only took about 20 mins!
ZENB is a brand who I've been following with some interest recently so I was really glad when they asked me to work with them.  They sent me some of their Veggie Sticks and Veggie Bites to review and use in some recipes and I wanted to find a creative was to use the delicious ZENB Veggie Sticks in my cooking.
ZENB – the new on-the-go snack
ZENB is a new, organic, plant-based brand that have created delicious on-the-go snacks that are also respectful of the resources of our natural environment. The company believes in including as much of the vegetable as possible, including the peel, skin, stem and seeds to help raise awareness around issues of food waste.
There are two snacks on offer in the ZENB range, Veggie Sticks and Veggie Bites.
The sticks are made using the vegetables, as well as puffed brown rice, red quinoa and almonds to complement and enhance the simple flavour of the vegetables. They come in 4 flavours; Beetroot, Carrot, Pumpkin and Red Pepper.  The beetroot was by far my favourite but that's probably because I'm such a beetroot fiend.  The bar has that earthy sweetness you would expect from the beetroot but also has a wonderful nutty crunch.  It's the perfect snack really and an alternative to grabbing a bar of chocolate!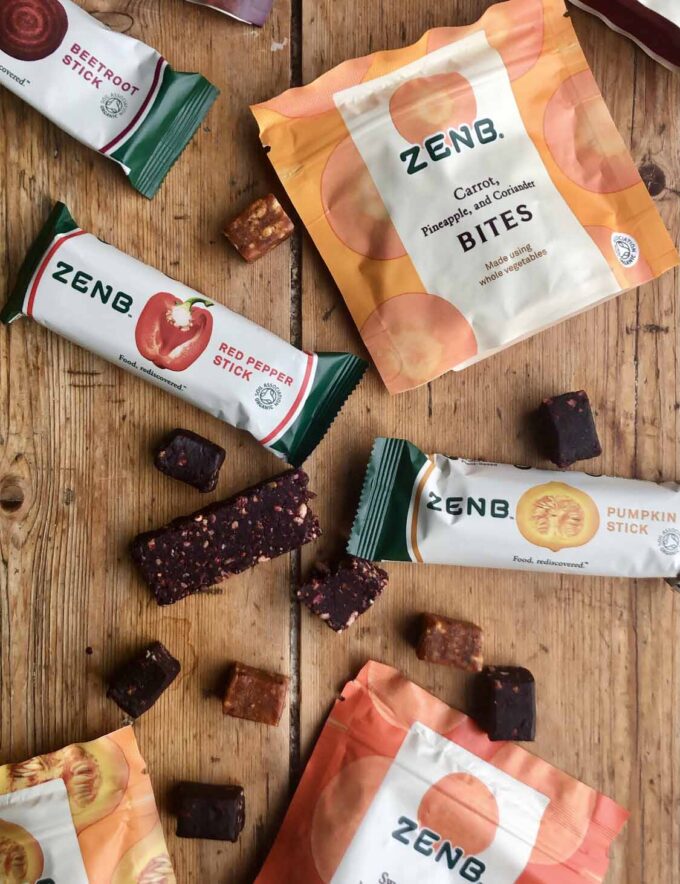 The Veggie Bites are a cool snack made using the whole vegetable, complemented with an enticing blend of fruit, nuts and spices, to create a range of five unique flavour-pairings: Carrot, Pineapple and Coriander, Pumpkin, Apple and Cacao Nib, Beetroot, Orange and Cacao Nib, Red Pepper, Tomato and Chilli, Sweet Potato, Mango and Cinnamon.
They also come in a resealable pouch so you can carry them around with you as you venture out! Again, my fave flavour was the beetroot one because the orange and cocoa nibs make it wonderfully sweet and a little sharp which is my favourite flavour combo.
So how have I used them?
For this cauliflower coconut curry I've used the red pepper, tomato and chilli Bites almost as a stock cube within the base of the curry and then used a Red Pepper Veggie Stick as a crumbly topping.  It adds a perfect piquant flavour to the stew whilst giving a nice crunch which is brilliant to add to this smooth curry.  I love that you can use the snacks to add to dishes and not just as treats.  I think they'd work really well on yoghurts for breakfast and even as part of a crumble topping for a pudding!
How can you get some? – never fear, I have a discount code!
ZENB Veggie Bites and Veggie Sticks and can be ordered exclusively from www.ZENB.co.uk and the lovely guys at ZENB have given my a discount code for you to use.  Use code BELLEAU10 for 10% off your purchase.
Cauliflower Coconut Curry with ZENB veggie sticks crunchy topping
150g red lentils
5 tbsp sunflower oil
1 tsp ground cumin
1 large cauliflower, florets cut off and any large ones broken up
2 banana shallots, chopped
50g finely grated fresh root ginger
3 garlic cloves, finely chopped
1 x tsp dried chilli flakes
one tsp freshly ground coriander seeds
1 teaspoon freshly ground cumin
½ tsp ground turmeric
1 tbsp mild curry powder
400ml can coconut milk
200ml tin chopped tomatoes
1 tbsp lime juice
3 ZENB veggie bites – the red pepper, tomato. and chilli one works beautifully
1 ZENB veggie stick – the Red Pepper one works well here.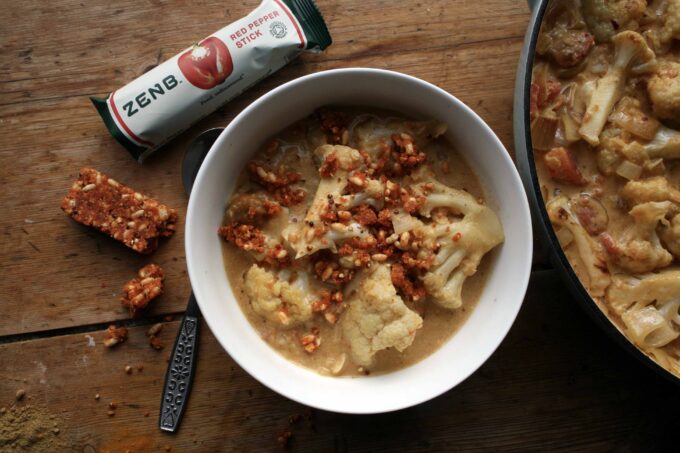 Put the lentils into a small pan with 450ml cold water and bring to the boil. Lower the heat and simmer gently, stirring regularly, for 15-20 minutes until the lentils have become a thick purée. Cover and set aside.
Meanwhile, heat 3 tbsp of the oil in a large saucepan over a medium heat, add 1 teaspoon ground cumin and the cauliflower florets and cook, turning occasionally, for 2-3 minutes until coloured here and there with golden-brown spots. Remove with a slotted spoon to a plate.
Add the remaining oil and ground cumin to the hot pan, then add the onion. Lower the heat slightly and cook gently for 10 minutes, stirring now and then, until soft and sweet but not browned. Add the ginger, garlic and chilli and cook for 2 minutes more, then stir in the ground coriander, ground cumin, turmeric and curry powder. Cook for 1 minute, then stir in the coconut milk, and add three ZENB Veggie Bites.
Stir in the cauliflower and tomatoes and simmer for about 10 minutes, stirring every now and then, until the cauliflower is just tender.
Stir the lentil purée into the curry with the lime or lemon juice and season to taste with salt. Leave to simmer for 2-3 minutes more. Crumble a ZENB Veggie Stick over the top before serving to add a crunchy bite.
This post is part of a paid partnership with ZENB