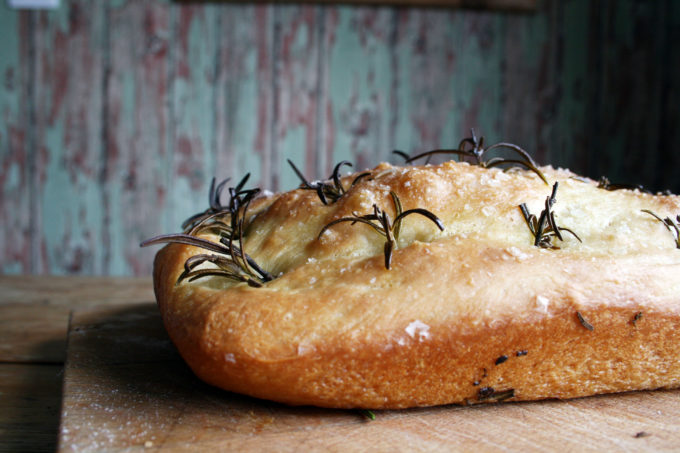 I think a rosemary focaccia is one of the most beautiful breads. It takes me back to holidays in the Mediterranean; that aroma of baking bread, olive oil and warm rosemary.  These are the kinds of scent memories that are particularly triggering at present.   I think one of the first things we plan to do once we're able, is to travel to Europe and soak in the sunshine. There's been quite a bit of flack aimed at foodies baking breads and sharing them on social media but if something as simple as the aroma of freshly baked bread can take us back to better times then bring it on!
I know flour is tricky to get hold of at present so if you can't get white bread flour, wholemeal would work and I even think plain flour would work as your focaccia doesn't need to rise as high as a regular loaf.
500g strong white bread flour
1 1/2 teaspoons fast action dried yeast
1 teaspoon salt (plus extra for sprinkling)
2 tablespoons olive oil (I use extra-virgin olive oil)
360ml cold water
fresh rosemary
plenty of olive oil for manipulation
I'm using my stand-mixer but this can easily be done in a large bowl with your hand.  It's quite a wet dough so I'd advise having plenty of olive oil handy to help you navigate all the stickiness.
Place all the ingredients into a bowl and bring them together with a spoon, your hand or a dough hook and knead gently for 5 mins, then with a well-oiled hand, pull and stretch the dough – once at each of the north, south, east and west points of the bowl. Return the dough to the stand mixer, or tip out onto an oiled surface and knead for a further 5 mins.
Place the dough into another oiled bowl, do the pull and stretch technique as before, then cover with clingfilm and set aside for 10 mins.  Then repeat the pull and fold once more before covering in clingfilm and setting aside for at least an hour or until the dough has doubled in size.  You should see some large bubbles on the top of the dough
pre-heat the oven too 220C
Generously oil a metal baking tray, all over the base and sides.  Any size will do.  Mine is 25cm x 15cm.
Knock back the dough and transfer it to the oiled tray and gently tease it out to the corners.  It will spring back but that's fine.  Cover with clingfilm and set aside for 30 mins for the second prove.
After 30 mins the dough should have almost all but filled the baking tray.  Drizzle with oil, then poke your fingers over the dough surface.  I do it in semi-uniformed rows. Place a sprig of fresh rosemary into each hole.  If you don't have rosemary, a little sprinkling of dried oregano would work well here.
Sprinkle the top generously with salt, then bake in the oven for 30 mins until golden brown. Once it comes out of the oven, drizzle with a little more olive oil.
Leave to cool for at least 15 minutes before tearing apart
Eat and of course, enjoy!