… don't laugh but I was watching Lorraine on telly the other day and the lovely #GBBO2012 winner John Whaite was making sticky toffee pudding. Obviously I was inspired to make some but i've never made sticky toffee pudding before so I was quite surprised to learn that it's made with dates, which I guess is what makes it so sticky.  It's funny isn't it how something as simple and traditional as a sticky toffee pudding, which you would assume to just know how to make, would be something that you know very little about… I think this is one of the things I loved about the final technical challenge of #GBBO this year.  The fact that they were asked to make the simplest of bakes; scones, victoria sponges and tart au citron was a stroke of genius in my humble opinion.  I actually think that the show has got a little lost in its journey into ever more increasingly difficult challenges and sometimes a revisit to the basics can prove the defeat of some chefs… give me a beautifully light victoria sponge with homemade jam and cream over some fancy patisserie any day…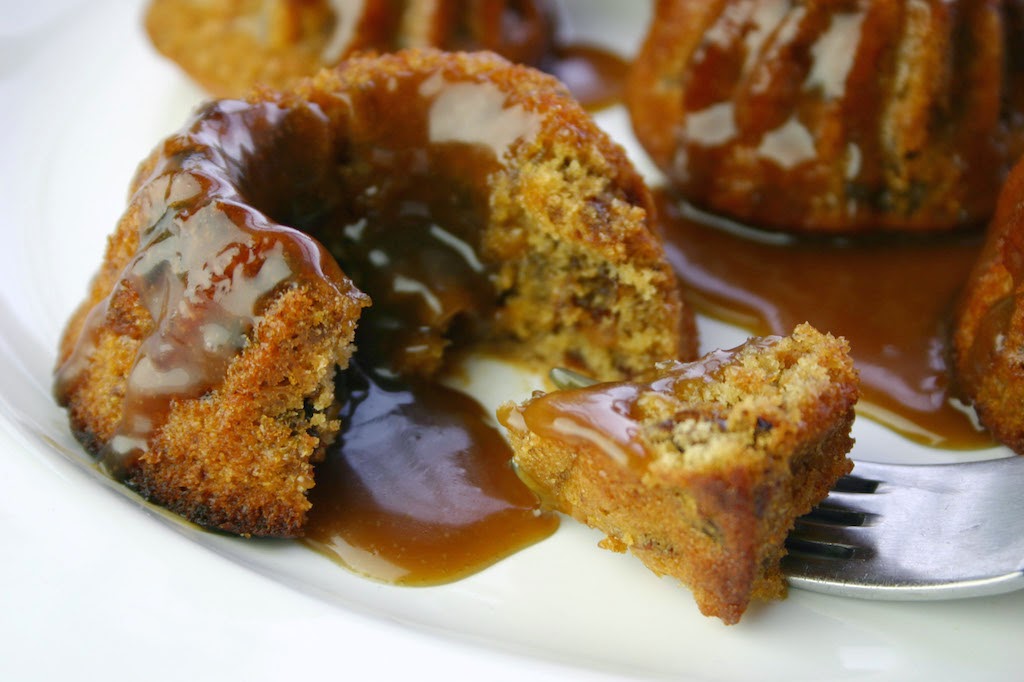 mini sticky toffee Lincolnshire puddings
you may well ask what it is that makes these little puddings 'Lincolnshire' and i'll throw my hands up now and admit that I am taking huge liberties but I was inspired to add some juicy raisins along with the dates.  Raisins are used in the traditional Lincolnshire Plum Loaf and so these little puddings have a little quality of that to them… it really makes no difference but what it does do is open up the idea to adding all kinds of dried fruits such as figs or apricots which would be lovely…
for the sponge pudding
125g dried stoned dates – finely chopped
100g raisins – finely chopped
175ml boiling water
1 tsp vanilla extract
175g self-raising flour
2 large, free-range eggs
1 teaspoon ground ginger
1 teaspoon ground cinnamon
85g butter
140g demerara sugar
2 tablespoons treacle or 2 tablespoons dark muscovado sugar
100ml milk
for the toffee sauce
175g light muscovado sugar
50g butter
225ml double cream
1 tablespoon treacle or dark muscovado sugar
i've used my 6 mini silicone bundt moulds which i've sprayed with Lurpak Cooking Mist but there was so much left-over I also greased a 20cm square pyrex dish – you will also need to pre-heat the oven to 180C
place the finely chopped dates and raisins into a bowl with the boiling water and vanilla extract and set aside until cool
in a large bowl beat the sugar and butter together with an electric hand whisk… keep going until you have a smooth-ish paste… it will never be perfectly smooth like a regular cake butter as the proportions of sugar are too high but keep going until it looks lighter.
add one egg and beat in followed by half the flour and beat in, then half the milk and beat, then add the second egg and beat followed by the remaining flour and beat in.  Now add the spices and the treacle or sugar followed by the remaining milk and beat again.
tip the soaked fruit into the batter and beat in once more then divide the batter between the cases or tins and bake for 20-25 mins until risen and firm – set aside to cool in the cases for a few mins and then remove from the tins and cool on a wire rack
to make the toffee sauce simply melt the butter, sugar and half the cream in a pan, stirring all the time.  Allow it to gently come to the boil, then add the treacle or sugar and let it bubble away for a couple of minutes and let it darken without burning.  Take it off the heat and stir in the remaining cream.
now, you can pour the sauce over the puddings once they've had a moment or two to cool and serve then and there or you can pour them in sauce once cooled completely and set aside to eat later, they should keep for at least 3 or 4 days out of the fridge.
eat and of course, enjoy!