Michelle and the crazies…
We've been away from The Kitchen all week as we've got quite a bit of work on down in the big smoke and i'm really missing being there and cooking but we've been investing in our friends which is also very important… particularly this weekend.
and just like the proverbial double-decker buses… you wait for ages and then 2 birthday's come at the same time!
Michelle and Richard both had their birthday's yesterday and The Viking and I went from North to South London… from lunch with Michelle and a fabulous crowd of noise and madness… to dinner with Richard and my guest chef Peter and an incredible meal with just the 4 of us… and plenty of Prosecco!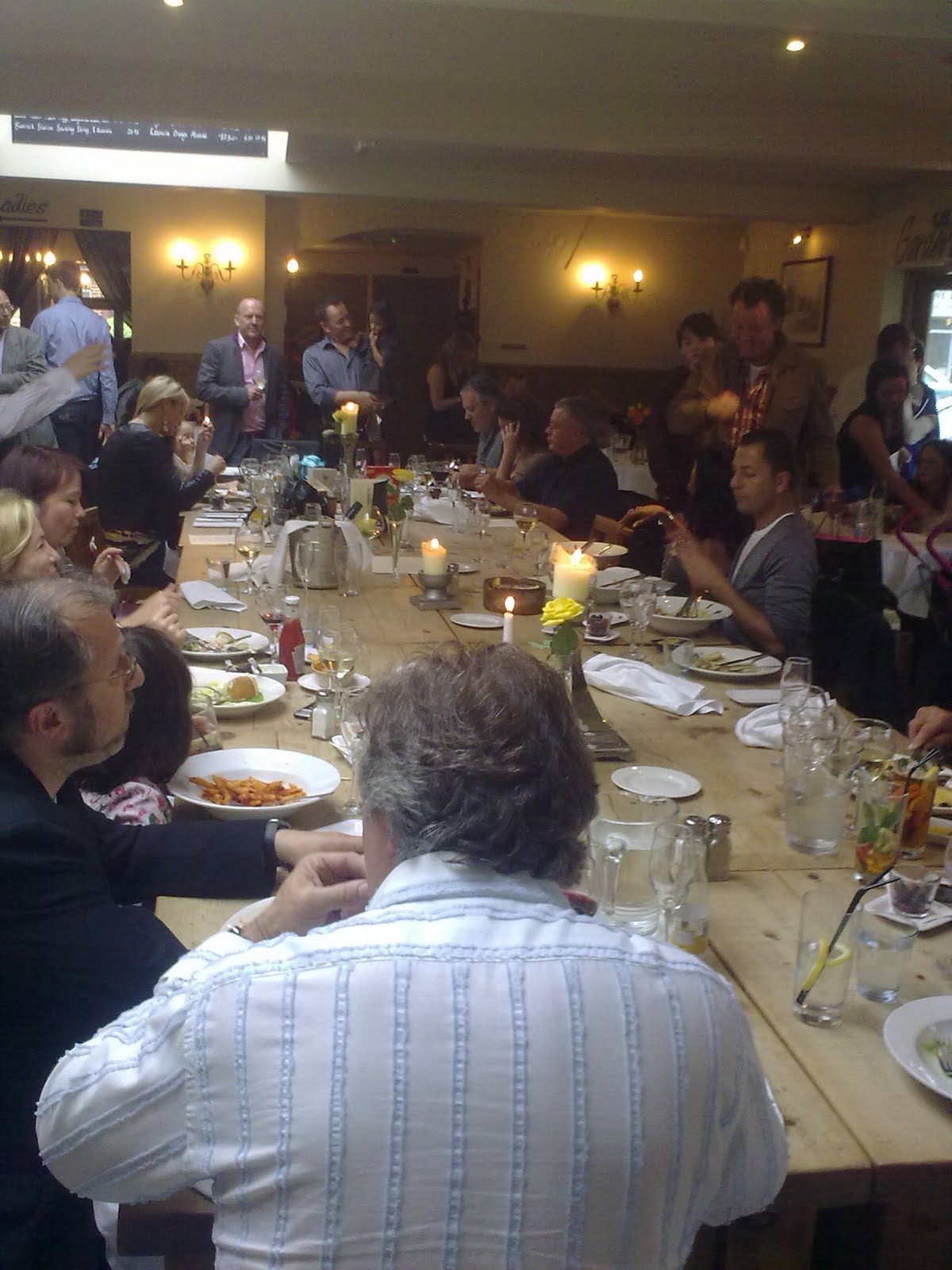 the giant table at The Clissold
Michelle's lunch was at The Clissold Arms in Fortis Green and to be honest it was the genius company that i'd rather write about because the food was not up to much… however, we now think we've worked out what we're going to do for my big birthday coming up in September….  The restaurant had created a huge dining table in the centre of the room and everyone just moved around it chatting with friends and catching up.  The waiters had a hard job pinning us down to take orders and then finding us again once the food was ready.  One of the waiters even mistook The V for a lady, asking him what 'madam would like to order'… this was hysterical, least not because The V has a beard and doubly funny because, believe it or not, it has happened before!
I love this idea for my birthday… perhaps we'll hire a private room somewhere and i'll create a menu and we'll all sit around a giant table…then it'll be just friends and no hassle…
One gripe… great menu, lots of choice but ONE veggie option!  And that was tomato pasta goo!  COME ON PEOPLE!!!!
Thanks Michelle… as always… we had a blast!
Then off to South London and a masterpiece meal created by Peter.  He had promised Richard he's make him all his favourite dishes and boy did he deliver!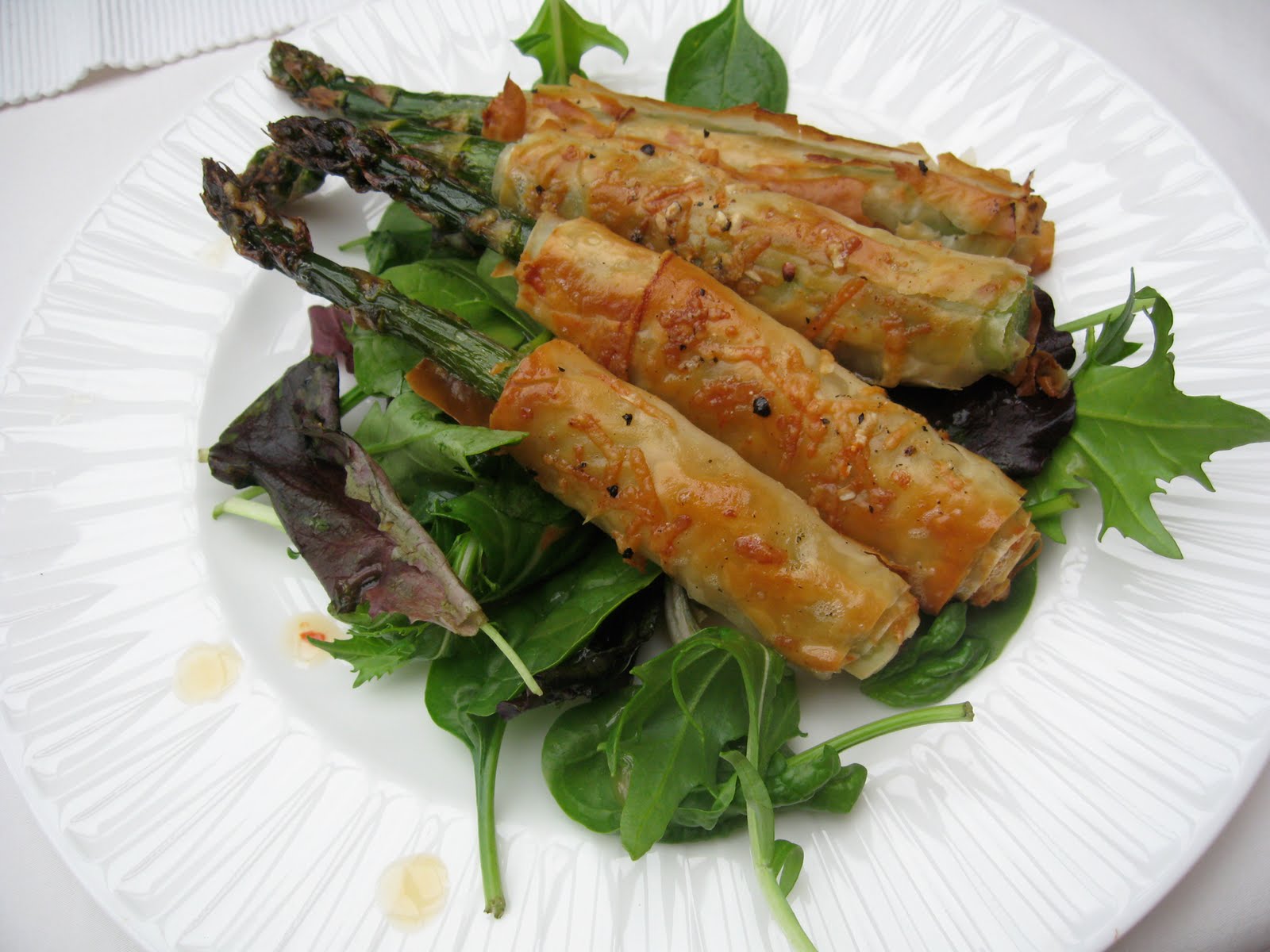 We started with asparagus wrapped in filo pastry, which was such a simple idea but was so delicious.  The asparagus, which is now in season here in the UK, was perfectly cooked and the pastry was sprinkled with parmesan which was good….
Our main course was cod fillets topped with a crust of bread-crumbs, salad onions and parmesan, served with Dauphinoise potatoes (an Angela Hartnett recipe) and garlic butter sauted tender-stem broccoli, which was a superior way to treat a vegetable!  This was all very good.. we all went silent for a long time!  Peter had even created a veggie version for The Big V, which was the same crust but placed upon a portobello mushroom… delicious!
We then took a seriously long break to play Buzz on the PS2 as we all rubbed our bellies and got our energy levels back… and then back to the dining table and dessert.
And what a dessert!  Banoffee Pie!  Individually created pies with a chocolate digestive case which Peter had infused with orange essence. Genius!
What a way to end a fabulous day!