This asparagus tart is a simple celebration of the humble asparagus season.  According to the UK asparagus delivery service Adam's Asparagus, there are now (at the time of publishing this post) only 27 days left of the British Asparagus season so it's well worth a visit to their site to order yours now.  This year has been a little strange for the British asparagus growers. The cold and frosty April delayed the start of the season, so we've actually got it later than usual.
Asparagus Season
I've always adored the stuff and can remember being served it as a kid and being told how special it was.  We almost revered it. It was also one of those incredible foods that you were allowed to eat with your fingers.  In fact encouraged to.  Dipping it in melted butter which inevitably dripped down your chin.
For me, the best way to eat it is simply steamed until just tender and then drizzled with butter or garlic butter but this tart with its simple cheesy herby filling comes in pretty close second.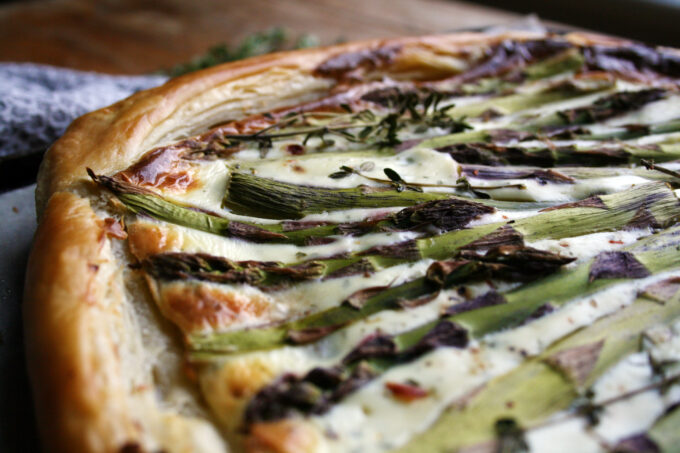 for the pastry
60

g

 lurpak garlic

butter

 – 

grated and then frozen

200

g

butter

 – 

grated and then frozen (I always use lightly salted butter)

350

g

 cold 

plain flour

 (pop it in the freezer the night before you want to make this)

roughly

150

ml

 

ice cold water

mixed with a teaspoon of freshly squeezed lemon juice
for the filling
roughly 8 asparagus spears – if they're thick, cut them lenghtways
1 x 125g portion garlic & herb cream cheese  (The CoOp do a really good one.)
one tablespoon greek yoghurt
1 large egg
salt and pepper
fresh thyme
Let's make the pastry first…Place the flour into a large bowl and using your fingertips, quickly rub in the 60g of garlic butter, then add the water / lemon juice mix a tablespoon at a time.
You can stir this with a wooden spoon but I like to use my hand shaped like a claw as I can feel the flour and water begin to form the dough so I know how much liquid to add.  You want to add enough liquid to form a firm dough that isn't too tacky.
Knead the dough fora couple of minutes then wrap in clingfilm and pop in the fridge for about 10 mins.
Flour your work surface and roll the dough out into a long rectangle with the short side nearest you, then sprinkle the bottom 2/3rds of the rectangle with half the grated frozen butter. (Push it down into the dough slightly.)
Fold over the top un-buttered third towards you and then fold the bottom third back over the top so that you have created 6 layers of dough/butter/dough/butter/dough/butter.
Turn the dough 90 degrees and roll it out again into a rectangle and repeat the above with the remaining butter.  Roll it our again after this and fold, then wrap and refrigerate for a good hour.
Repeat the roll and fold process again three more times but don't worry about refrigerating the dough between each fold.  if you work fast you really won't need to.
After the 5th roll and fold, wrap it and pop it into the fridge for at least an hour before using. (You can freeze at this stage.)
Meanwhile make the 'filling' by beating the egg, cream cheese, yoghurt and seasoning together to form a loose paste.
When ready, pre-heat your oven to 170C and line a large baking sheet.
Roll out your pastry to fill the baking sheet – don't worry too much about it being perfectly square.  Score a line around the pastry sheet 1cm in from the edge.
Pour the filling into the scored area and spread it out, then lay the asparagus on top.
Bake for 25-35 minutes or until the edges have risen and are nicely golden.
For more asparagus inspired dishes, check out my blog here.
Eat and of course, enjoy!